You are here:
MIPI CSI-2 Receiver v 2.1, Compatible with MIPI C-PHY v1.2 & DPHY v2.1.
The Arasan MIPI CSI-2 Receiver IP Core functions as a MIPI Camera Serial Interface Receiver, between a peripheral device (Camera module) and a host processor (baseband, application engine). The Arasan MIPI CSI-2 Receiver IP provides a standard, scalable, low-power, high-speed interface that supports a wide range of higher image resolutions.

Arasan MIPI CSI-2 Receiver is compliant to MIPI CSI-2 v2.1 specification and supports DPHY v2.1 and the MIPI C-PHY v1.2.

Arasan offers the C-PHY in a combination configuration that supports both C-PHY interfaces and D-PHY interfaces. Our implementation makes efficient use of the high frequency signally pins for a minimal overhead to support both physical interfaces.
特色
Use of either D-PHY/C-PHY by user configuration

Different Configuration allowed for multiple use cases

4-Lanes/8-Lanes D-PHY / 3-Lanes C-PHY

Lane is configurable depending on the bandwidth requirements of the application, up to 8-lanes for DPHY and up to 3-lanes for C-PHY

High Speed (HS) receiver rates of 182Mbps (80Msps) to 6840Mbps (3Gsps) per lane with C-PHY interface

High Speed (HS) receiver rates of 80Mbps to 1500Mbps per lane without calibration, 1500Mbps to 2500 Mbps with skew calibration and 2500Mbps to 4500Mbps with equalization in D-PHY interface

Supports for Ultra Low Power Mode (ULPS)

Supports for Alternate Low Power State (ALPS) in CPHY mode

Single (or) Optional Multi-Pixel mode interface to ISP. The multi-pixel mode is used in high bandwidth requirement applications to lower the ISP clock frequency requirement.

Optional Pixel Level Interface to ISP with HSYNC, VSYNC, DATA and DATA VALID

Streams the received pixels onto eight data channels (customizable) based on the channel configuration from ISP

Separate data channel for the short generic packets

Support for all packet level errors, Protocol Decoding Level errors

Support for cut-though (or) store and forward mode FIFO. Cut-through mode makes use of shallow Memory for memory critical applications.

Optional support for Compressed data formats

Optional support for different error counting

Pixel formats supported

RAW data type – RAW6,RAW7,RAW8, RAW10, RAW12, RAW14,RAW16, RAW20

YUV data type – YUV422-8bit, YUV422-10bit, Legacy YUV420 8-bit,YUV420 10-bit,YUV420 8-bit (Chroma Shifted Pixel Sampling),YUV420 10-bit (Chroma Shifted Pixel Sampling)

RGB data type – RGB888, RGB666, RGB565, RGB555, RGB444

All user Defined data types / JPEG

Generic 8-bit long packet data types

Host interface for register configuration and monitoring

Used for programming both CSI-2 and PHY related registers. Reserved address space [0x00 – 0x0F] for the PHY related registers.

Optional support for the AHB/APB Interface
优势
Fully compliant to MIPI standard

Small footprint

Code validated with Spyglass

Functionality ensured with comprehensive verification

Product quality proven with silicon

Premier direct support from Arasan IP core designers
可交付内容
Verilog HDL of the IP core

User guide

Synthesis scripts

Lint report

CDC report

Verilog test suite

Gate count estimation available upon request
Block Diagram of the MIPI CSI-2 Receiver v 2.1, Compatible with MIPI C-PHY v1.2 & DPHY v2.1.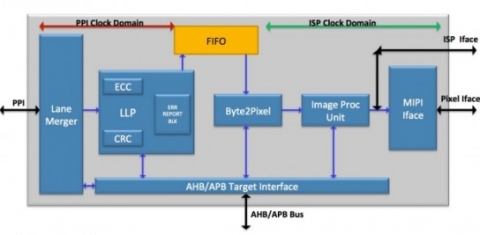 ---
查看 MIPI CSI-2 Receiver v 2.1, Compatible with MIPI C-PHY v1.2 & DPHY v2.1. 详细介绍:
查看 MIPI CSI-2 Receiver v 2.1, Compatible with MIPI C-PHY v1.2 & DPHY v2.1. 完整数据手册
联系 MIPI CSI-2 Receiver v 2.1, Compatible with MIPI C-PHY v1.2 & DPHY v2.1. 供应商