You are here:
ITU G.711 compressor
The ntG711_CMP core implements the ITU G.711 compliant compressing. The G.711 standard specifies a compressing function for 16-bit uniform PCM to 8-bit A/μ-law word.
特色
Compresses 16-bit linear PCM to 8 bit a-law or u-law logarithmic PCM.

Compliant to the ITU G.711 standard.

Purely combinational logic RTL implementation.

Silicon proven in ASIC and FPGA technologies for a variety of applications.
优势
The ntG711_CMP core can be used in a variety of applications, including:

PCM Codecs.

Voice companding.

Front –end for any DSP processing of 64 kbps voice.
Block Diagram of the ITU G.711 compressor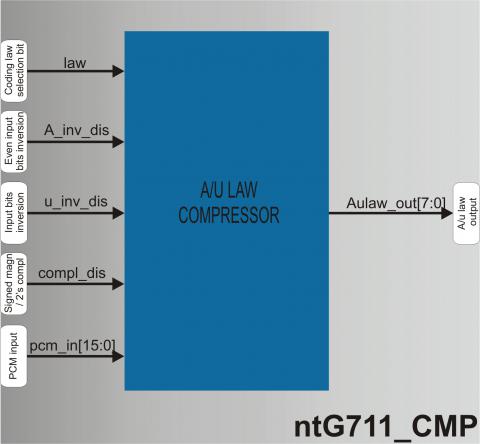 ---
查看 ITU G.711 compressor 详细介绍:
查看 ITU G.711 compressor 完整数据手册
联系 ITU G.711 compressor 供应商