You are here:
DVB-CID modulator
The DVB-CID Modulator provides all the necessary processing steps to modulate the Content-ID table into a complex I/Q signal for input to a pair of DACs, or interpolating DAC devices such as the AD9857/AD9957 or RFDACs such as the AD9789. Optionally the output can be selected as an IF to supply a single DAC.
特色
Compliant with ETSI EN 103 129.

Enables rapid development of carrier identification systems using commodity low-cost FPGAs.

Provides support for all 32 Content-ID options.

Individual Content-ID enable options.

Automatic Content-ID profile sequencing.

Optional CPU-free configuration.

Supports all required chip-rates using a single clock reference.

AD9857/AD9957/AD9789 interface and auto-programming support.

AD9516/ADF4350 PLL programming support.

Designed for very efficient FPGA implementation without compromise to the targeting of gate array or standard cell structures.

Supplied as a protected bitstream or netlist (Megacore for Altera FPGA targets).
Block Diagram of the DVB-CID modulator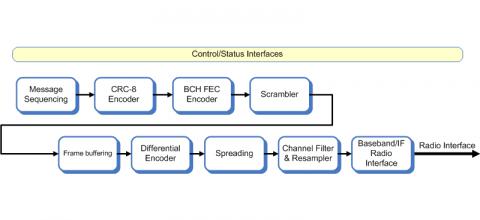 ---
查看 DVB-CID modulator 详细介绍:
查看 DVB-CID modulator 完整数据手册
联系 DVB-CID modulator 供应商