You are here:
ColdFire V2 Processor (70019)
Freescale Semiconductor is the world's leading provider of 32-bit controllers and processors based on Freescale's ColdFire® Architecture have been deployed in over half a billion devices. You can quickly and cost-effectively create your own low-power, highly-integrated, 32-bit ASIC solutions implementing the ColdFire Architecture.

ASIC designs based on the ColdFire V2 Core are software compatible with all ColdFire standard products and cycle accurate with Freescale V2-based devices.

Code compatibility and a shared ecosystem mean easy migration not only from 8-bit to 32-bit CPUs and through emerging generations of the ColdFire Architecture, but also from module level integration to IP core level integration.

The entire ColdFire Family, including the V2 ColdFire Core and SPP, is supported by world-class development tools suites offered through leading tools developers. Development tools supporting ColdFire include Freescale's CodeWarrior Special Edition software suite for ColdFire plus other professional tools from Freescale partners, including Green Hills Software, Wind River Systems, Accelerated Technology/Mentor Graphics, and many others.


---
查看 ColdFire V2 Processor (70019) 详细介绍:
查看 ColdFire V2 Processor (70019) 完整数据手册
联系 ColdFire V2 Processor (70019) 供应商
Block Diagram of the ColdFire V2 Processor (70019)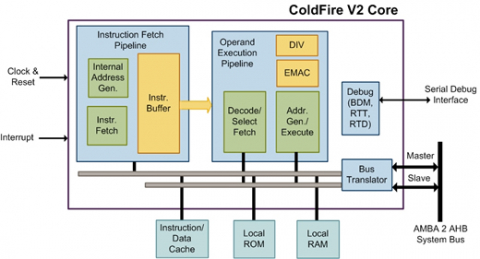 Video Demo of the ColdFire V2 Processor (70019)