You are here:
WebM VP9 Hardware Decoder
WebM's G2 VP9 Decoder IP is the latest addition to WebM family of hardware IP products for multimedia system-on-chip designs. G2 is the first decoder IP to implement VP9 in hardware, delivering next-generation performance and power efficiency, and enabling up to 4K (2160p 60FPS) resolution playback on smart TVs, PCs and post-PC consumer devices.

As with our VP8 hardware IPs, G2 is currently available to semiconductor companies having firm plans to ship VP9-supporting products. A written, no-cost agreement is required.
特色
Decoding of VP9 bitstreams with YCbCr 4:2:0 color format

8-bits per color channel

Maximum decodable frame resolution: 4096 x 2304 pixels

Output frame formats:

Reference frame: YCbCr4:2:0 Semi-planar 4x4 tiled format

Post-processed output frame: YCbCr4:2:0 raster scan format

SoC connectivity:

64/128 bit AXI master

AXI, AHB or APB slave

Configurable endianness
优势
WebM G2 enables 4K (2160p) VP9 playback on high-end consumer devices. The design is scalable to meet up to 2160p@60fps decode requirements with a single core, minimizing the silicon area and decoding latency.
可交付内容
The standard G2 delivery package includes all required source code to integrate the decoder with the actual SoC.

VHDL or Verilog source code

Driver source code in ANSI C, including API for application integration

Software test bench

RTL test bench

Comprehensive test suite for SoC integration and verification

Synthesis script templates for Synopsys Design Compiler
应用
Youtube playback on consumer devices, such as DTV, STB, smart phones and tablets.
Block Diagram of the WebM VP9 Hardware Decoder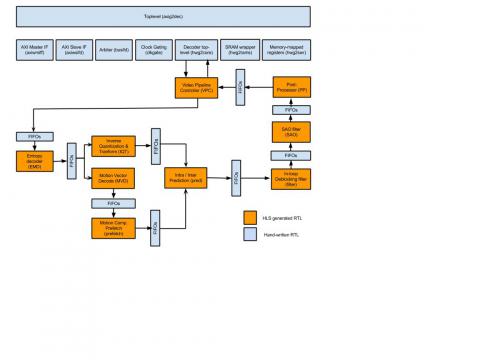 ---
查看 WebM VP9 Hardware Decoder 详细介绍:
查看 WebM VP9 Hardware Decoder 完整数据手册
联系 WebM VP9 Hardware Decoder 供应商