You are here:
Very High Speed 3GPP LTE Turbo Decoder
This is a very high speed and fully compatible 3GPP LTE turbo decoder with one, two, four or eight parallel MAP decoders.
特色
8 state 3GPP LTE compatible turbo decoder

Rate 1/3

40 to 6144 bit interleaver

Up to 280 MHz internal clock

Up to 204 Mbit/s with 5 decoder iterations

6-bit signed magnitude input data

1, 2, 4 or 8 parallel MAP decoders

Optional log-MAP or max-log-MAP constituent decoder algorithms

Up to 32 iterations in 1/2 iteration steps

Optional power efficient early stopping

Optional extrinsic information scaling and limiting

Estimated channel error output

Free simulation software

Available VHDL core for Xilinx FPGAs under SignOnce IP License. ASIC, Altera, Lattice and Microsemi cores available on request.
可交付内容
All Licenses

Xilinx VHDL Core

Test vector generation software

VHDL ASIC License

ASIC VHDL Core

C++ bit/cycle exact simulation model
Block Diagram of the Very High Speed 3GPP LTE Turbo Decoder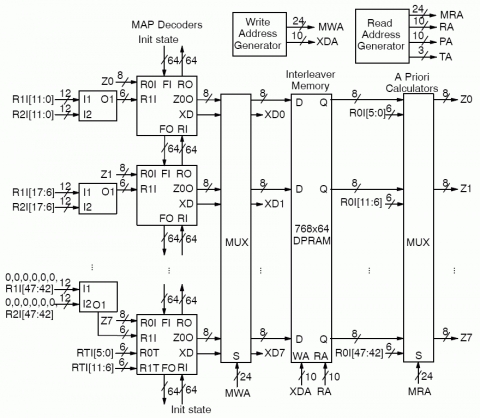 ---
查看 Very High Speed 3GPP LTE Turbo Decoder 详细介绍:
查看 Very High Speed 3GPP LTE Turbo Decoder 完整数据手册
联系 Very High Speed 3GPP LTE Turbo Decoder 供应商