You are here:
v5.2 Link Layer, Physical Layer, Software Stack and Profiles for Bluetooth low energy
BlueLitE is Mindtree's Bluetooth low energy Semiconductor IP, which supports Bluetooth 5.2 specification. Mindtree has invested over 500 person-years in Bluetooth technology since the year 2000. We have implemented several Bluetooth specification and certified them.

Mindtree today has two variants of our BlueLitE IP, hardware oriented architecture and software oriented architecture.The hardware oriented architecture is Ideal for high end application which need multiple simultaneous connection support with high throughput while the software oriented architecture is recommended for all mid end applications which need high flexibility. As an IP provider, Mindtree is one of the few companies that is committed to Bluetooth technology.

BlueLitE IP is proven in Silicon for all the modules -

Link Layer
Digital PHY
Stack and Profile

We have licensed our IP to more than 15+ customers with 25+ design wins which includes few of the top ten semiconductor companies in the world.
---
查看 v5.2 Link Layer, Physical Layer, Software Stack and Profiles for Bluetooth low energy 详细介绍:
查看 v5.2 Link Layer, Physical Layer, Software Stack and Profiles for Bluetooth low energy 完整数据手册
联系 v5.2 Link Layer, Physical Layer, Software Stack and Profiles for Bluetooth low energy 供应商
Block Diagram of the v5.2 Link Layer, Physical Layer, Software Stack and Profiles for Bluetooth low energy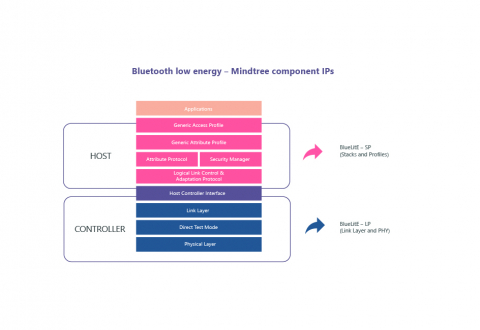 Video Demo of the v5.2 Link Layer, Physical Layer, Software Stack and Profiles for Bluetooth low energy