You are here:
UTC70
The UTC70 IP core is a drop in module in charge of processing multiple formatted input date/time to translate it into "Coordinated Universal Time" value with a reference starting from 1st of January 1970 at 00h00m00s.
特色
Supported FPGA families: Spartan®-6, Virtex®-6/7, Kintex™-7, Artix™-7, Zynq™

2 physical date/time input sources for automatic updating of the current date/time UTC value

GPS interface is composed of an UART RX line, a PPS input electrical line, GPRMC frame format from NMEA message

NTP interface

32-bit CPU interface to program a user defined date/time value.
应用
The UTC70 IP core can be used with the MVD Remultiplexer Core to provide it reference time. This reference time will then be automatically inserted in TDT/TOT or STT respectively for DVB or ATSC remultiplexer firmware.
Block Diagram of the UTC70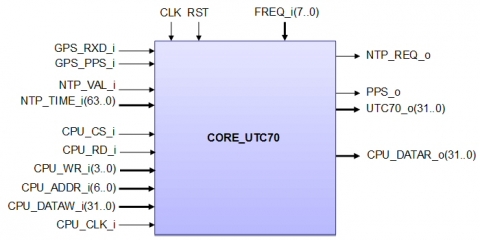 ---
查看 UTC70 详细介绍:
查看 UTC70 完整数据手册
联系 UTC70 供应商