You are here:
USB V3.1 Power Delivery Type-C Port Evaluation board for OTI9108 IP
The OTS9106 board is a complete FPGA and ARM processor based USB PD Type-C port, featuring the RTL and C source code of the Obsidian Technology OTI9108 silicon IP plus power supply components to from a multi-role plug and play port.

Compliance tester results available for review.

The standard has many optional features, and this board allows customized configurations to be tested and verified prior to silicon implementation. This applies to both RTL and C code.

The board has two switching regulators and two linear regulators to allow operation in multiple power roles.
特色
I2C or 8-Bit bus RTL to MPU connection options.

Replaceable Type-C connector module.

32-Bit ARM M4 module is replaceable with PIC-32 or ARM M0 modules.

On-board variable 3A 5V - 20V power switcher for VBUS.

Header for RTL key signal monitoring.

Board Type-C PHY is pin equivalent to the OTI9108 PHY.

Boards may be connected to from multiport hubs.

Supports source, sink, duel role ports.

Data and power role swap.
优势
Configure source code, and test prior to silicon realization.

Test compliance.

Test interoperability with other products.
可交付内容
OTS9106 PCB board.

User manual.

Schematic diagram.

Power supply.

RTL, and C source code options.

Compliance tester VIF file.

Online support.
应用
USB Power Delivery Type-C development.

IP testing.
Block Diagram of the USB V3.1 Power Delivery Type-C Port Evaluation board for OTI9108 IP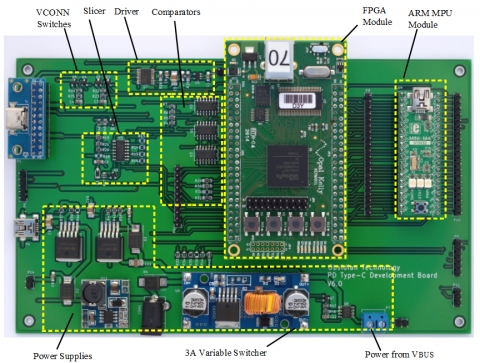 ---
查看 USB V3.1 Power Delivery Type-C Port Evaluation board for OTI9108 IP 详细介绍:
查看 USB V3.1 Power Delivery Type-C Port Evaluation board for OTI9108 IP 完整数据手册
联系 USB V3.1 Power Delivery Type-C Port Evaluation board for OTI9108 IP 供应商
USB V3.1 Power Delivery Type-C FPGA Demo Board OTI9108 IP