You are here:
Up to 105 dB of SNR, 24-bit stereo CODEC with PDM to PWM transmodulator DAC and embedded regulator
sCODa-MT1-LR.05 is an audio CODEC which provides the insurance of the best sound quality after integration into a SoC for Set-Top-Box or DTV applications.
It benefits from unique features, such as the AGC to automaticaly adapt the voice level and a wind noise filter enabling the best recording quality.
Moreover its ultra small area ensures a cost-effective SoC integration to Fabless companies.
特色
1 stereo microphone input or Line-in (SE or diff.)

1 digital microphone interface

1 stereo bitstream output for external amplifier

Data & Control interface

Low noise embedded linear regulator

Automatic Gain Control (AGC)

Programmable wind noise filters

Jerkless and PLL-less features

Digital Mixer function with programmable gain
Block Diagram of the Up to 105 dB of SNR, 24-bit stereo CODEC with PDM to PWM transmodulator DAC and embedded regulator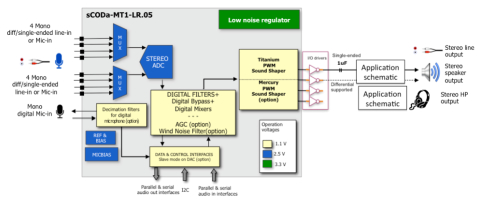 ---
查看 Up to 105 dB of SNR, 24-bit stereo CODEC with PDM to PWM transmodulator DAC and embedded regulator 详细介绍:
查看 Up to 105 dB of SNR, 24-bit stereo CODEC with PDM to PWM transmodulator DAC and embedded regulator 完整数据手册
联系 Up to 105 dB of SNR, 24-bit stereo CODEC with PDM to PWM transmodulator DAC and embedded regulator 供应商