You are here:
Ultra-Low-Power Bandgap Voltage Reference in 40nm CMOS
The ODT-REF-40LP-SV1P8-ULP140N is an ultra-low power CMOS bandgap reference in a standard 40nm CMOS process. The bandgap offers a programmable output voltage as well as multiple output currents. In additional, the bandgap includes an optional output buffer that lowers its output impedance. The IP operates over the entire temperature range of -40C to 125C with extremely low nominal current levels as low as 100nA.

A single room temperature trim can be used to achieve a temperature coefficient as low as 25ppm/C. The bandgap reference output is designed for low output noise and high power-supply rejection ratio. The entire block can be powered down in sleep mode to consume less than 15nA from supply.

For a detailed product datasheet, please contact Omni Design at sales@omnidesigntech.com.
---
查看 Ultra-Low-Power Bandgap Voltage Reference in 40nm CMOS 详细介绍:
查看 Ultra-Low-Power Bandgap Voltage Reference in 40nm CMOS 完整数据手册
联系 Ultra-Low-Power Bandgap Voltage Reference in 40nm CMOS 供应商
Block Diagram of the Ultra-Low-Power Bandgap Voltage Reference in 40nm CMOS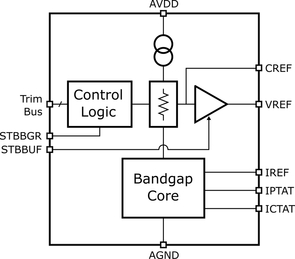 Analog & Mixed Signal Low power bandgap voltage reference ppm current IoT low voltage subthreshold IP