You are here:
Ultra low-power 2.4 GHz transceiver for Bluetooth Low Energy 5
The ultra-low-power RF transceiver is designed to meet standards such as Bluetooth Low Energy (Bluetooth Smart), 802.15.4 PHY Layer (e.g. ZigBee), and proprietary standards with data-rates from 62.5 kBit/s up to 4 Mbit/s. It offers less than 6mW consumption in receive mode under a 1.0 V supply. icyTRX is a complete transceiver that is designed for miniaturization, yielding a die size of less than 2 mm2 in 65 nm CMOS, requiring minimal external components thanks to high degree of integration. It is designed for easy integration into ASICs and SoCs.
特色
Voltage supply: 1.3V to 1V

RX current 5.3 mA (1 MBit/s)•

TX current 8.6 mA (@ 1 dBm)•

Exceeds BLE and IEEE802.15.4 requirements

Proprietary modes with adjustable bitrate from 62.5 kBit/s up to 4 Mbit/s

Bluetooth 4.x sensitivity: -97 dBm at 1 Mbit/s•

Bluetooth 5 sensitivity: -94 dBm at 2 Mbit/s, -105 dBm at 125 kbit/s (Long Range S=8) and -101 dBm at 500 kbit/s (Long Range S=2)

No calibration needed, ultra fast settling

Single Rx and Tx port

No external RF matching components required

Fully integrated FSK-based modem, with programmable pulse shape, data rate and modulation index

Link layer functionalities, including automatic packet handling, CRC, separate Rx and Tx FIFOs, AES-CCM

Silicon area < 1.1 mm2 (55 nm CMOS)
优势
Extended battery life, small silicon area, low BOM cost, direct use from 1V battery.
可交付内容
Available under license as embedded IP block for integration in CMOS SoCs and ASICs

Samples and development kits are available
应用
Wearables

Wireless sensor networks

Portable medical

IOT

Energy harvesting applications
Block Diagram of the Ultra low-power 2.4 GHz transceiver for Bluetooth Low Energy 5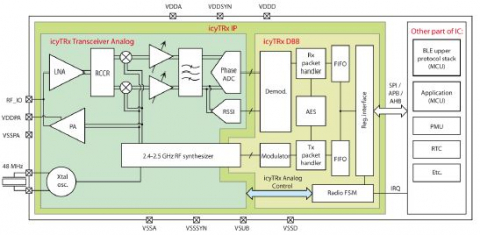 ---
查看 Ultra low-power 2.4 GHz transceiver for Bluetooth Low Energy 5 详细介绍:
查看 Ultra low-power 2.4 GHz transceiver for Bluetooth Low Energy 5 完整数据手册
联系 Ultra low-power 2.4 GHz transceiver for Bluetooth Low Energy 5 供应商