You are here:
UFS 2.1 Host Controller compatible with M-PHY 3.1 and UniPro 1.6
The Universal Flash Storage 2.0 (UFS 2.0) is a simple but high performance, serial interface primarily used in mobile systems, between host processing and nonvolatile eXecute-In-Place (XIP) or mass storage memory devices.

Mobile phones, UMPC, DSC, PMP are some of the typical applications for UFS Host Controller IP. Majority of these applications require mass storage and bootable storage memory with an option for an external card.

The UFS 2.0 Host Controller IP incorporates the latest UFS Host Controller Interface (HCI) version 2.0. The MIPI M-PHY® HS-G3 IP is available in GDSII format for a variety of process technologies and MIPI UniProSM version 1.6 link layer with support for multi-lane operation and the optional Unified Memory Architecture (UMA) implementation.

---
查看 UFS 2.1 Host Controller compatible with M-PHY 3.1 and UniPro 1.6 详细介绍:
查看 UFS 2.1 Host Controller compatible with M-PHY 3.1 and UniPro 1.6 完整数据手册
联系 UFS 2.1 Host Controller compatible with M-PHY 3.1 and UniPro 1.6 供应商
Block Diagram of the UFS 2.1 Host Controller compatible with M-PHY 3.1 and UniPro 1.6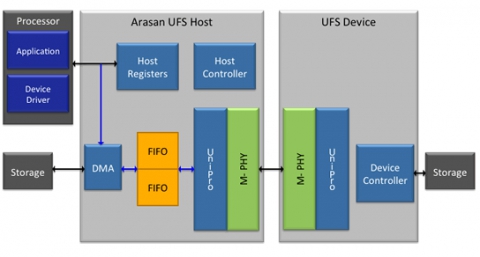 Video Demo of the UFS 2.1 Host Controller compatible with M-PHY 3.1 and UniPro 1.6
UFS 2.1 Host Controller