You are here:
TVM - Temperature/Voltage Monitor in 28nm CMOS
The ODT-TVM-ULP-001C-28 is an ultra-low power temperature and voltage monitor designed in a standard 28nm CMOS process. The IP operates over the entire temperature range of -40C to 125C and is functional to 150C. The IP is designed to achieve ultra-low power operation at both the maximum and low sample rates.

The temperature monitor achieves excellent temperature accuracy without trim and +/-1C temperature accuracy after a single room temperature trim. The optional voltage monitor supports multiple differential or single-ended inputs with a rail-to-rail voltage range.

A one shot mode allows user to initiate an on-demand temperature or voltage measurement. When not operating, the entire block can be placed in a low power standby mode.
---
查看 TVM - Temperature/Voltage Monitor in 28nm CMOS 详细介绍:
查看 TVM - Temperature/Voltage Monitor in 28nm CMOS 完整数据手册
联系 TVM - Temperature/Voltage Monitor in 28nm CMOS 供应商
Block Diagram of the TVM - Temperature/Voltage Monitor in 28nm CMOS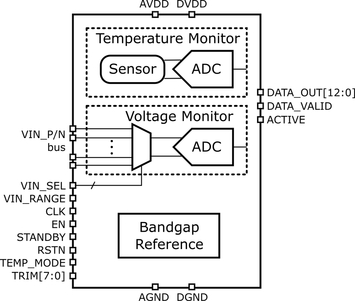 Analog & Mixed Signal Low power TVM Temperature Voltage Monitor IP