You are here:
Turnkey eNB-IoT Release 15 & multi-constellation GNSS IP solution for IoT devices
CEVA has designed a complete eNB-IoT IP solution that can serve a wide range of applications. The CEVA-Dragonfly NB2 pre-integrates together a CEVA-BX1 processor, an optimized RF Transceiver, a baseband, and a protocol stack to offer a complete Release 15 Cat-NB2 modem IP solution that reduces time-to-market and lowers entry barriers. The CEVA-Dragonfly NB2 is a fully software-configurable solution that can be extended with multi-constellation GNSS and sensor fusion functionality. It includes a reference silicon of the complete modem design, including an embedded CMOS RF transceiver, an advanced digital front-end, physical layer firmware, and a protocol stack (MAC, RLC, PDCP, RRC, and NAS).
For broader foundry process selection, the CEVA-Dragonfly NB2 solution can also be used with partners' RF transceiver or customer own.

---
查看 Turnkey eNB-IoT Release 15 & multi-constellation GNSS IP solution for IoT devices 详细介绍:
查看 Turnkey eNB-IoT Release 15 & multi-constellation GNSS IP solution for IoT devices 完整数据手册
联系 Turnkey eNB-IoT Release 15 & multi-constellation GNSS IP solution for IoT devices 供应商
Block Diagram of the Turnkey eNB-IoT Release 15 & multi-constellation GNSS IP solution for IoT devices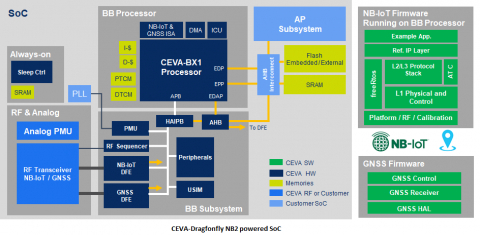 Video Demo of the Turnkey eNB-IoT Release 15 & multi-constellation GNSS IP solution for IoT devices
CEVA-Dragonfly NB2 is a highly-integrated and modular solution optimized for Cat-NB2 (3GPP Release 15 eNB-IoT) that can seamlessly be incorporated into chips and modules by the multitude of companies looking to address the large and fast-growing cellular IoT space.
Key Benefits include:
- Reduces time-to-market with fully integrated reference silicon, that enables real-time, over the air, system and software development in parallel with SoC development
- Single-processor, software-configurable solution is guaranteed futureproof for LTE Release 15 updates