You are here:
Switching regulator, inductor-based, PWM mode, high efficiency, DELTA standard
Dolphin Integration offer a Reusable Power Kit Library, Based on a standard namely DELTA, toward three objectives:
? To standardize and ease Power Regulation Network integration
? To enable diverse optimizations
? To reduce Time-to-Market

The eSR-Tugela, a component of the DELTA library, is an inductor-based buck switching regulator with high efficiency.
特色
High efficiency buck regulator (up to 95% peak), over wide load current range

Pulse With Modulation (PWM) mode enabling to master the frequency response

Automatic mode change of the Power Stage Unit, maintaining high-efficiency at low load current

Low Bill-Of-Material: fully integrated feedback and active compensation loop do not require additional external passive components.

Behavioral models: ease integration in SoC and optimized Power Management Network (PMNet) by verifying mode transitions as well as noise propagation
Block Diagram of the Switching regulator, inductor-based, PWM mode, high efficiency, DELTA standard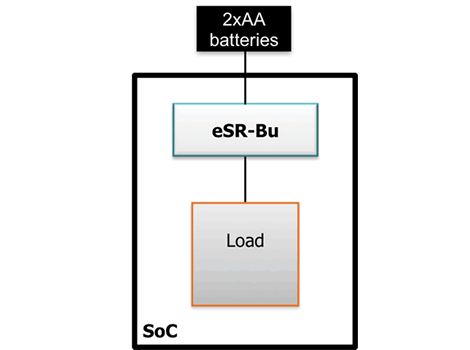 ---
查看 Switching regulator, inductor-based, PWM mode, high efficiency, DELTA standard 详细介绍:
查看 Switching regulator, inductor-based, PWM mode, high efficiency, DELTA standard 完整数据手册
联系 Switching regulator, inductor-based, PWM mode, high efficiency, DELTA standard 供应商