You are here:
SHA256 & SHA224 core with APB interface
The eSi-SHA256 core is an easy to use SHA hash accelerator peripheral for both SHA256 and SHA224. with an APB bus interface.

SHA2 is a cryptographic hash function designed by the United States National Security Agency and is a U.S. Federal Information Processing Standard published by NIST. There are various hash lengths that are supported in the NIST standard, this core supports SHA256 and SHA224.
特色
Simple register based interface

65 clock cycles per 512 bits of input data

AMBA 3 APB slave interface

DMA flow-control interface

Verilog 2001.
优势
low gate-count

easy to use
可交付内容
RTL

Testbench

Software libraries
Block Diagram of the SHA256 & SHA224 core with APB interface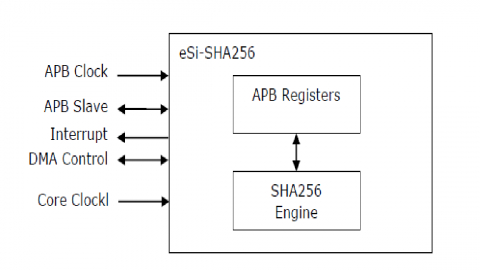 ---
查看 SHA256 & SHA224 core with APB interface 详细介绍:
查看 SHA256 & SHA224 core with APB interface 完整数据手册
联系 SHA256 & SHA224 core with APB interface 供应商