You are here:
Second-Generation Digital Fractional-N PLL for 5G Applications
Perceptia's DeepSub™ pPLL08 is a second-generation digital PLL providing the best jitter-power results in the industry. It achieves the lowest jitter or phase noise at a given power, or the lowest power at a given jitter or phase noise. It is capable of achieving extreme performance as required by the most demanding communication applications, including 5G base stations and handsets, Bluetooth LE, narrow-band IoT, SerDes, etc. It is suited for foundry processes of 40nm and below.
This hard IP includes a digitally-controlled LC-tank oscillator, which may have been optimized for the application. The second-generation architecture minimizes the need for mixed-signal circuits, and the signal loop is almost fully built with synthesized synchronous logic. Its only mixed-signal circuits are the digitally-controlled oscillator (DCO) and a part of the Phase Accumulator. This allows for accurate modeling of the PLL's behavior, and high predictability of its performance when ported to various process nodes. The use of digital circuits minimize influences of the process, voltage, and temperature (PVT) on the loop behavior. The design includes regulators and decoupling capacitors to reduce the influence of supply voltage noise.
The PLL loop filter is programmable, and its operation can be fully controlled via a control and status interface. The fractional-N operation is achieved with Perceptia proprietary and patented techniques, achieving high resolution at a low power. The fractional resolution is 24 bits. This allows control of the output frequency by better than 1/16th ppm relative to the internal reference clock frequency.
The PLL provides up to three outputs signals: one directly from the digitally-controlled oscillator (DCO), and two via separate post-scalers, which can each be bypassed by an auxiliary clock signal.
pPLL08 has a small footprint and integrates easily with other circuits.
特色
Fractional-N digital PLL architecture, using an LC-tank oscillator

Ultra-low jitter and ultra-low phase noise, suitable for demanding wired, wireless and optical communications applications

A prescaler R (divide by 1 to 7) on the reference clock input generates internal reference clock ck_ref

Twenty-four bits fractional resolution

Oscillator output frequency up to 8GHz

Direct high-speed PLL output from the oscillator and two post-scalers with lower-speed outputs

Configurable loop filter can be customized to optimize performance for specific crystals or reference clock sources. Supports loop bandwidths from sub-kHz to MHz.

Lock-detect output

Output duty cycle better than 48 / 52%

Spread-spectrum clock (SSC) generation

High noise immunity allows easy SoC integration

The IP includes an internal regulator and supply decoupling

Can be used without additional supply decoupling

Highly testable using industry-standard flows

ATPG vectors provided

Specification of functional tests covering analog and custom-digital circuits

Low power consumption

Power-down modes cache the last state to enable accelerated lock on power-up

Small footprint

Industrial operating conditions (-40 to 85°C) with junction temperature up to 125°C.
可交付内容
Datasheet

Timing/power models

LEF5.6 abstract for floor planning/chip assembly

Integration Guidelines

GDSII layout macrocell

CDL netlist (encrypted format) for LVS

DRC, LVS and SI verification reports

Verilog behavioral model and test bench

ATPG model with accompanying documentation – allowing integration of the module in scan chains

Functional test specification for tests that cannot be handled by ATPG vectors

Characterization report

Integration support
应用
5G base station, 5G transceiver, 5G client
Block Diagram of the Second-Generation Digital Fractional-N PLL for 5G Applications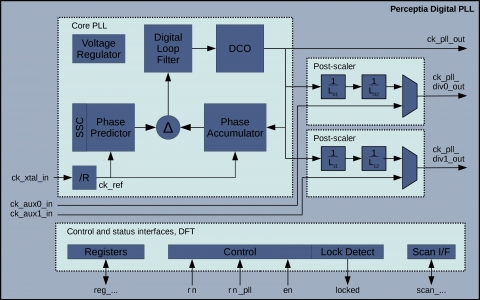 ---
查看 Second-Generation Digital Fractional-N PLL for 5G Applications 详细介绍:
查看 Second-Generation Digital Fractional-N PLL for 5G Applications 完整数据手册
联系 Second-Generation Digital Fractional-N PLL for 5G Applications 供应商