You are here:
RadHard Wideband SiGe VCO for Low Ultra Low Noise Application
CoreVCO chip consists of two ultra low phase noise, wideband RadHard VCOs (VCOBJT and VCOPMOS) for space and other critical environments. In VCOBJT, the core is built around HBT bipolar transistors while in VCOPMOS the core is built around PMOS transistors. Both are controlled via SPI interface.

VCOs offer excellent phase noise performance in a wide frequency range and have intrinsic radiation tolerance. VCOs incorporate frequency selection by digital tuning words and analog tuning voltage.

VCOs are fabricated in 0.25 um SiGe process and packaged in QFN 6mm x 6mm package. VCOBJT and VCOPMOS are also available as silicon IPs
特色
Dual RadHard VCO.

0.7 GHz - 6.6 GHz VCOBJT with 2 GHz Phase Noise less than -112 dBc/Hz @ 100kHz.

0.9 GHz - 3.5 GHz VCOPMOS with 2 GHz Phase Noise less than -114dBc/Hz @ 100 kHz.

Single power supply of 5.0V. Integrated bandgap reference and LDOs with power down mode.

Broadband matched RF outputs delivering +2dBm @ 2 GHz. 6 dB output power adjustment.

SPI control interface. Digital calibration against temperature and process variations.

Current consumption less than 120 mA.

Small size QFN48 package 6mm x 6mm.
应用
Satellite communications

Space applications

Microwave radios

Military End-Use

Wireless systems (GSM, WCDMA, LTE, WLAN, Bluetooth)

Automotive

Industrial
Block Diagram of the RadHard Wideband SiGe VCO for Low Ultra Low Noise Application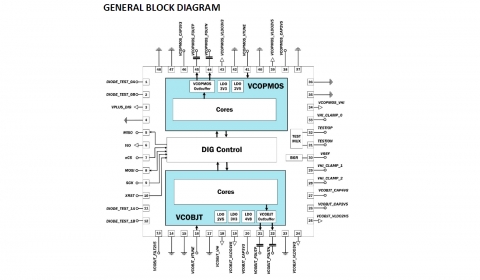 ---
查看 RadHard Wideband SiGe VCO for Low Ultra Low Noise Application 详细介绍:
查看 RadHard Wideband SiGe VCO for Low Ultra Low Noise Application 完整数据手册
联系 RadHard Wideband SiGe VCO for Low Ultra Low Noise Application 供应商