You are here:
Power On Reset
The OT0403 is a CMOS general purpose POR for 3.3V. It provides a minimum 8uS reset pulse with power rise times of 0 to infinity. It also provide a brown out reset with a threshold of 2VT's.

特色
Input threshold 2VT.

Reset and reset bar output logic levels.

Minimum 8uS reset pulse for any power rise time.

1µA typical supply current.

-40°C to 120°C temperature operation.

Base cell area 0.003mm2 in 0.18µ CMOS.

Silicon proven in many processes.
Block Diagram of the Power On Reset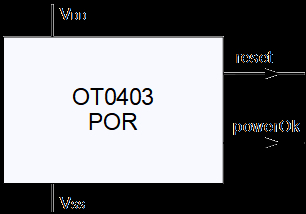 ---
查看 Power On Reset 详细介绍:
查看 Power On Reset 完整数据手册
联系 Power On Reset 供应商