You are here:
pico 2D Graphics Processor for Wearables/IoT
NEMA®|p is the smallest member of the NEMA®|GPU Series, and has been specifically designed to serve the need to build economically smart SoC's to drive small yet vibrant display applications.

Developing those area constrained applications can be challenging and a cost efficient graphic solution is a key element to succeed but without sacrificing graphics performance and dispense the ability of ultra-low power consumption. NEMA®|p has an incredibly small silicon footprint of just 0.074mm2 (475MHz @ 28nm), with leakage power GPU consumption of just 0.06mW. Implementing Think Silicon's proprietary framebuffer compression technology (TSCTMFB) limits memory power consumption to just 0.03mW (in DDR-less systems).

It features a programmable 2D graphics-rendering engine and has innovative composition functionalities while supporting Linux, RTOS, and Graphics APIs like uGFX and DirectFB. Bare metal library enables graphics applications development in embedded systems with no Operating System.
特色
Fully programmable engine with a VLIW instruction set

Fixed point functional units

Command list based DMAs to minimize CPU overhead

Compression schemes

TSCTM4 (4 bits per pixel)

TSCTM6 / TSCTM6a (6 bits per pixel without/with alpha)

2D drawing

Pixel / Line drawing

Filled rectangles

Triangles (Gouraud Shaded)

Quadrilaterals

Smart Composition

One pass composition

Hidden areas are not read from memory

YUV layers are automatically processed without intermediate conversion

Video scaler

Blit support

Rotation, Mirroring

Stretch (independently on x and y axis)

Source and/or destination color keying

Format conversion

RGB and YUV

Text rendering supports

A1 bitmap, A8 bitmap antialiased

Subsampled antialiased

Color formats

32/16/8 bit, with/out alpha, GreyScale, YUV, RGB.

Full Alpha blending

Programmable blending modes

Source/Destination color keying

Image transformation

3D Perspective Correct Projections

Texture mapping

Point sampling

Bilinear filtering

Antialiasing

Quadrilaterals per edge Antialiasing

Antialiased lines
优势
Performance per mWatt per Dollar

The NEMA®|GPU-Series performance per silicon area per clock frequency is unrivaled in its class. NEMA®|p has been designed to perform favorable against these critical performance benchmarks. As a result NEMA®|p uses 87% less active and 98% less idle power and has a 4 times smaller silicon footprint (compared to the competition), leading to significant cost reduction.

Think Silicon's proprietary 4bpp (bits-per-pixel) real-time frame-buffer compression (TSCTMFB), the 6bpp texture compression and real-time de-compression (TSCTMT) benefits architects and finance controllers equally. The compressed images and the software libraries are so small in size that they fit into the internal SoC memory. As a result, expensive external DDR memory can be minimized or entirely eliminated. This reduces the SoC idle power consumption about impressive 98%, extends system battery life about 10 times and lowers the overall BOM cost. The combined performance and cost advantages make NEMA®|p to a Performance-Power-Cost leader in the class of 2D GPU's.
可交付内容
Deliverables include: complete set of synthesis and STA (Static Timing Analysis) scripts, OS drivers (for Linux, FreeRTOS), graphics API software libraries (for uGFX, DirectFB, Qt) and standalone bare drivers.

Documentation includes: IP manual, integration manual, software library manual including code samples, and demonstration platform application notes.

A reference design systems and demo-sets are available for platforms: Xilinx Zynq, Altera SoCkit.
应用
NEMA®|p is the perfect candidate to support entry level IoT-platforms, wearable and embedded devices with low cost and ultra-low power requirements supporting SoC's with a 32-bit MCU (e.g. ARM® Cortex®M processors) and provide fluid 2D graphics experience for a wide range of applications.

Developers are able to create compelling 2D Graphical User Interfaces (GUIs) and software applications with ultra-long battery life at a significantly lower cost for power-memory-area constrained IoT devices.

For example, with core frequencies just as little as 25MHz, NEMA®d|p delivers a fast and brilliant 2D UI experience on a VGA (640x480) screen, without being limited to these parameters.
Block Diagram of the pico 2D Graphics Processor for Wearables/IoT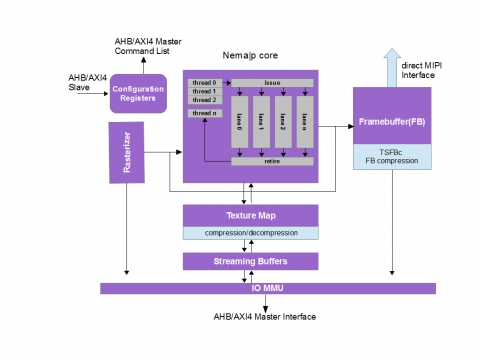 Video Demo of the pico 2D Graphics Processor for Wearables/IoT
---
查看 pico 2D Graphics Processor for Wearables/IoT 详细介绍:
查看 pico 2D Graphics Processor for Wearables/IoT 完整数据手册
联系 pico 2D Graphics Processor for Wearables/IoT 供应商