You are here:
ONFI 3.0 NV-DDR2 PHY
The ONFI 3.0 NV-DDR2 PHY, compliant to ONFI 3.0 electrical interface, delivered in hard macro, is process technology proven and easy to integrate. This ONFI 3.0 PHY, supporting NV-DDR2 up to 400MT/s with capability of scaling speed, accelerates time-to-market by reducing SoC designers' development time otherwise spent on ensuring high speed signal integrity
特色
Compliant to ONFI revision 3.2 standard

Supports NV-DDR2 mode of operation supporting up to 266MHz or 566MT/s

Supports NV-DDR mode of operation supporting up to 100MHz

Supports legacy Asynchronous devices operating from 10MHz to 50MHz

Can be used with any other ONFI digital controller

Includes 1.8V/3.3V operation I/O pads complaint to ONFI 3.2, ONFI 3.1, ONFI 2.3, ONFI 2.0

Contains a PLL to support all frequencies from 10MHz to 200MHz

Uses 2X clock for better timing

Contains a DLL to align the DQS for better noise margin and immune to PVT variations

Supports differential signaling of DQS and RE signals

Supports 4 levels of drive strength as mentioned in the ONFI 3.2 Standard
优势
Proven and robust high performance ONFI 3.2 NV-DDR2 PHY delivered in hard marco

Offered as a Total IP solution including RTL Host Controller IP, Verification IP and ESL models, Software Stack, and Hardware Development Platform

Arasan Chip Systems is the leading supplier of mobile storage IP and its products are used by most first tier memory suppliers. Extensive experience and compliance testing with all versions of this specification make the choice of Arasan products the lowest risk approach to implementation of ONFI NAND flash enabled products.

Arasan's development engineering team provides direct support to customers insuring that the highest level of knowledge is immediately available to the customer thus reducing problem resolution time.
可交付内容
The full IP package complete with:

Graphic Design System II (GDSII) database

Layout Versus Schematic (LVS) Netlist

Physical Abstract Model (LEF)

Behavioral Models

Design Integration Guide

Technical Documentation
Block Diagram of the ONFI 3.2 NV-DDR2 PHY in GDSII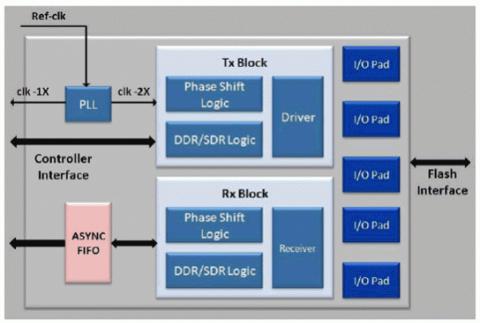 ---
查看 ONFI 3.2 NV-DDR2 PHY in GDSII 详细介绍:
查看 ONFI 3.2 NV-DDR2 PHY in GDSII 完整数据手册
联系 ONFI 3.2 NV-DDR2 PHY in GDSII 供应商