You are here:
Multi Protocol Switch IP Core for Safe and Secure Ethernet Network
"The CetraC Switch IP core is the ideal solution to interconnect any TSN, Ethernet and ARINC 664 Part 7 (AFDX) equipment for safety critical application.
It is the central element of high performance, safe, real time and deterministic systems and networks.

The CetraC Switch IP core is fully compliant with real time Ethernet/A664 Part 7 protocols and allows both cyclic and event-driven communications in full duplex.

The CetracC technology is developed with modularity and scalability as main drivers such that it allows to add new Ethernet/ARINC664p7 ports within a very short Time To Market.

The IEEE1588 PTPV2 protocol is also available at any port to synchronize the overall devices connected to the network. The CetraC Switch IP core acts as GrandMaster or simply distributes the clock to each connected equipment requiring a common clock.

Several IP core switches can be connected together through a 10Gbps optical fiber link to create any of the three kinds of flexible network architectures for critical systems:
• High speed redundant ring architecture (at up to 10Gbps)
• High speed hierarchical architecture (at up to 10Gbps)
• Mesh network by mixing the two previous architectures."

---
查看 Multi Protocol Switch IP Core for Safe and Secure Ethernet Network 详细介绍:
查看 Multi Protocol Switch IP Core for Safe and Secure Ethernet Network 完整数据手册
联系 Multi Protocol Switch IP Core for Safe and Secure Ethernet Network 供应商
Block Diagram of the Multi Protocol Switch IP Core for Safe and Secure Ethernet Network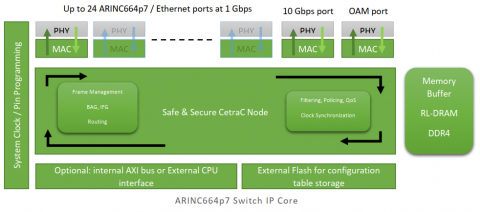 Video Demo of the Multi Protocol Switch IP Core for Safe and Secure Ethernet Network
CetraC Video Channel
ARINC-664 AFDX TSN Ethernet PTP 1588 DO-254 AXI 10G IP