You are here:
MIPI UniPro Controller IP
UniPro (Unified Protocol) is a layered protocol defined by MIPI Alliance for interconnecting devices and components within a mobile device. UniPro enables the components of a device to utilize MIPI PHY layer, like MPHY to communicate and exchange data to devices on the other side of MIPI lanes. UniPro supports a wide range of device applications like application processor, camera controller, display controllers, storage controllers like UFS, memory (RAM) controllers etc.

The MIPI UniPro is designed to be PHY agnostic and can support a wide range of multiple applications simultaneously in the application layer. The MIPI UniPro along with our Application solutions like CSI-3 or UFS and Our MPHY forms a complete solution to your needs.
特色
Compliant with MIPI UniPro Standard V1.41.00 and MPHY standard 2.0

Programmable 1, 2, or 4 data lanes

M-PHY HS data rates HS-G1,G2,G3 A/B and PWM data rates PWM-G1 to PWM-G7

End to End flow control.

Supports all traffic classes.

Supports preemption of high priority frames.

Supports maximum of 32 CPorts.

Employs Round Robin arbitration across CPorts.

Supports group acknowledgement of maximum 16 frames per traffic class.

Supports retransmission of frames.

Configurable buffer spaces.

Supports CSD, CSV.

Supports UniPro Test Feature.

TMPI Support.
优势
Highly Modular and scalable design

Active-low

Asynchronous reset
可交付内容
RTL Code

Verification Environment

Test Cases

Synthesis Environment and scripts

Detailed Datasheet, Design Guide, Verification Guide and Synthesis Guide
Block Diagram of the MIPI UniPro Controller IP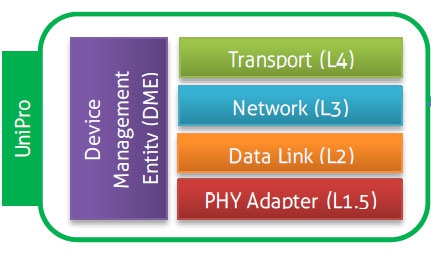 ---
查看 MIPI UniPro Controller IP 详细介绍:
查看 MIPI UniPro Controller IP 完整数据手册
联系 MIPI UniPro Controller IP 供应商