You are here:
Successive Approximation ADC - XFAB CMOS180
A general purpose Analog to Digital Converter (ADC) for low-power applications. The converter is a charge-redistribution successive-approximation type converter, suitable for the entire Nyquist band.

The key feature of this ADC is its low power consumption. This is achieved by using an energy efficient comparator and by making all circuitry dynamic. As a result, quiescent current in e.g. amplifiers is avoided, and the power consumption is fully proportional to the sample-rate. This property makes the ADC ideal for low duty-cycle sensor applications and other applications benefiting from low power consumption.

The converter can operate in both single-ended and differential mode, making it suitable for a broad range of applications
特色
sample-rate up to 12.5 MS/s

low power consumption,

proportional to sample-rate:

1.2 mW @ 12.5 MS/s

12 uW @ 125 kS/s

single-ended and differential mode

10.5 ENOB

>78 dB SFDR (incl. THD)

0.17 mm2 in baseline 0.18 um CMOS

rail-to-rail input range

supports full Nyquist band
优势
Scalable power, power consumption is linear with sample rate.

When no clock signal the power consumption of the ADC is negligible.

Well suited for porting to other technologies.
可交付内容
The IP deliverables package consist of

GDS file

Behavioral model

Netlist

Integration documentation.
应用
Low-power applications

Sensor applications

Radio baseband processing
Block Diagram of the Low Power Successive-Approximation ADC 12.5 MS/s 12-Bit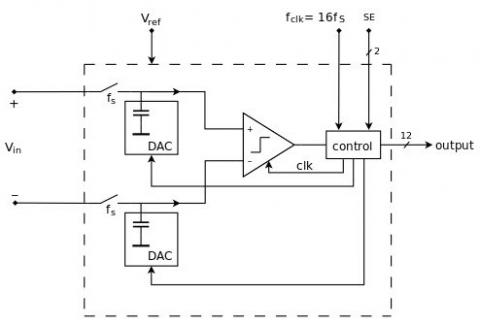 ---
查看 Low Power Successive-Approximation ADC 12.5 MS/s 12-Bit 详细介绍:
查看 Low Power Successive-Approximation ADC 12.5 MS/s 12-Bit 完整数据手册
联系 Low Power Successive-Approximation ADC 12.5 MS/s 12-Bit 供应商