You are here:
Low Dropout Linear Regulator
The OT1105t180 is a 150mA CMOS low dropout regulator designed for use in a wide variety of mixed signal device applications. It is designed for use with an external vdd/capacitor pin. (See OT1104 for internal capacitor version.)

Designed for TSMC 0.18µ processes.

特色
Input voltage range 3.0V – 5.5V.

Output voltage 1.8V ±5%.

Output fold back short circuit protection.

Over-temperature protection.

Works with straight-through IO pads.

External 4.7µF decoupling capacitor.

Power down/enable input.

Fast response to current steps.

<1% line and load regulation.

Can be back powered.

PSRR 70dB @ 1MHz.

-40°C to 120°C temperature operation.

Base cell area 0.03mm2 in 0.18µ CMOS.
可交付内容
Flat GDS.

LEF.

LVS netlist.

Integration notes.

Production test notes.
应用
LiFe Battery to 1.8V core voltage regulator.

3.3V or 5V power to 1.8V core voltage regulator.
Block Diagram of the Low Dropout Linear Regulator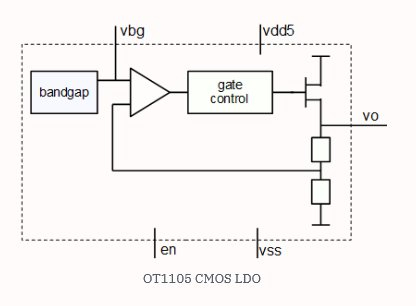 ---
查看 Low Dropout Linear Regulator 详细介绍:
查看 Low Dropout Linear Regulator 完整数据手册
联系 Low Dropout Linear Regulator 供应商