You are here:
ITU G.711 expander
The ntG711_EXP core implements the ITU G.711 compliant expanding. The G.711 standard specifies a translation for 8-bit A/μ-law in 14-bit uniform PCM word. The ntG711_EXP core is fully programmable.
特色
Expands 8 bit a-law or u-law logarithmic PCM to 13/14 bit linear PCM.

Compliant to the ITU G.711 standard.

Purely combinational logic RTL implementation.

Silicon proven in ASIC and FPGA technologies for a variety of applications.
优势
The ntG711_EXP core can be used in a variety of applications, including:

PCM Codecs.

Voice companding.

Front –end for any DSP processing of 64 kbps voice.
可交付内容
Fully commented synthesizable VHDL or Verilog source code or FPGA netlist.

VHDL or Verilog test benches and example configuration files.

Matlab source code.

Comprehensive technical documentation.

Technical support.
Block Diagram of the ITU G.711 expander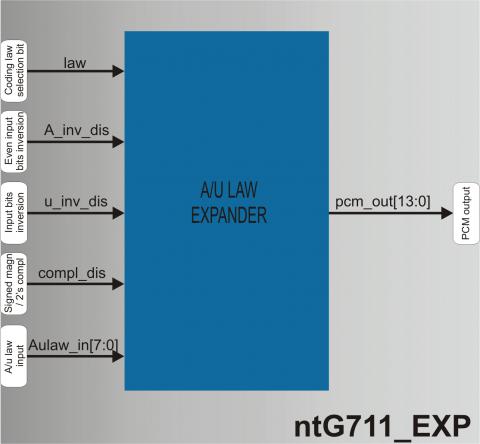 ---
查看 ITU G.711 expander 详细介绍:
查看 ITU G.711 expander 完整数据手册
联系 ITU G.711 expander 供应商