You are here:
Interleaver / De-interleaver
Configurable interleaving/deinterleaving function that can be used in a wide range of applications that employ channel coding.
特色
Support for block or convolutional (de interleaving algorithm.

Programmable interleaving or deinterleaving functionality.

Parameterized symbol width and codeword length.

Programmable block size, number or rows/columns.

Programmable rows/columns permutations.

Programmable number of branches and branch length.

Compatible with continuous or burst mode Reed Solomon codecs.

Fully synchronous design using a single clock.
可交付内容
Synthesizable VHDL or Verilog code.

Comprehensive test bench.

Detailed user's guide.
Block Diagram of the Interleaver / De-interleaver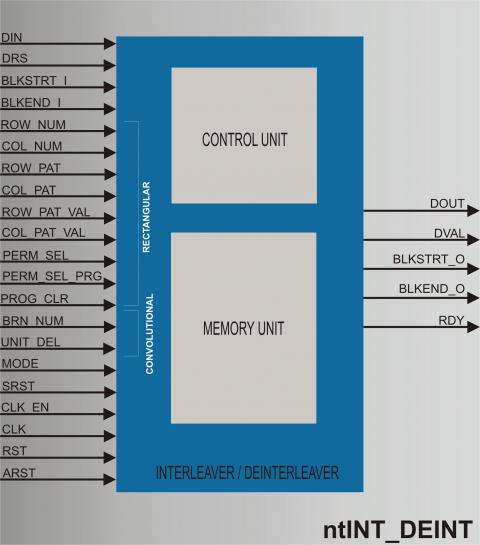 ---
查看 Interleaver / De-interleaver 详细介绍:
查看 Interleaver / De-interleaver 完整数据手册
联系 Interleaver / De-interleaver 供应商