You are here:
Intelligent Sensor and Power Management Design Platform
The IQonIC Works ISP is an integrated ASIC design platform for low power analog/mixed signal ASICs for IoT, Smart Home, Healthcare, Wearables, and Industrial applications that will simplify, streamline and reduce the cost for new ASIC designs.

The IQonIC Works ISP includes:

- Integrated ASIC reference architecture and design, and a library of analog and digital design and verification IP.

- Complete SDK, including SW drivers for all HW interfaces and functions and sensor calibration tools.

- Virtual Development Environment for application SW development, validation and safety certification, with full simulation capability for application development with better, simpler and more comprehensive debugging features.



---
查看 Intelligent Sensor and Power Management Design Platform 详细介绍:
查看 Intelligent Sensor and Power Management Design Platform 完整数据手册
联系 Intelligent Sensor and Power Management Design Platform 供应商
Block Diagram of the Intelligent Sensor and Power Management Design Platform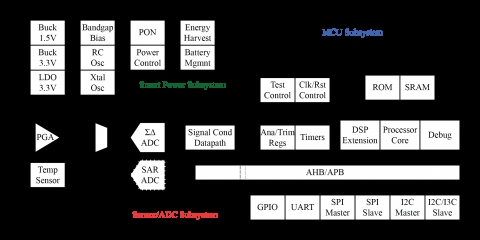 Integrated ASIC IP Platform with Sensor Analog Front End IP