You are here:
Display Controller - LCD / OLED Panels (AHB-Lite Bus)
The Digital Blocks DB9000AHB-Lite TFT LCD Controller IP Core interfaces a microprocessor and frame buffer memory via the AMBA 3.0 AHB-Lite Bus V1.0 to a TFT LCD panel. In an FPGA, ASIC, or ASSP device, the microprocessor is typically an ARC, ARM, Intel, MIPS, OpenSPARC, PowerPC, or Tensilica processor and frame buffer memory is either on-chip SRAM memory or larger off-chip SRAM or SDRAM.

The DB9000AHB-Lite can connect directly to a multi-port memory controller with an AHB-Lite port interface.
---
查看 Display Controller - LCD / OLED Panels (AHB-Lite Bus) 详细介绍:
查看 Display Controller - LCD / OLED Panels (AHB-Lite Bus) 完整数据手册
联系 Display Controller - LCD / OLED Panels (AHB-Lite Bus) 供应商
Block Diagram of the Display Controller - LCD / OLED Panels (AHB-Lite Bus)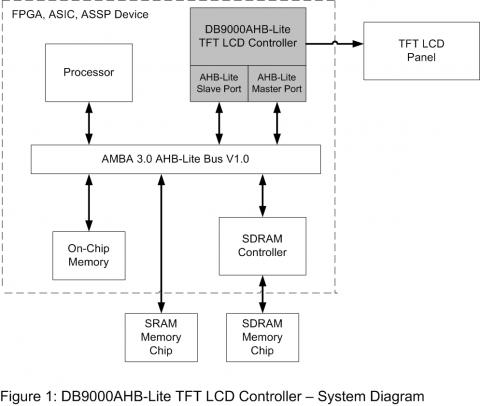 tft lcd controller display ahb coreconnect ocb plb ocp arm powerpc mips microblaze actel arm7 cortex arm9 RGB YCbCr lcdc clcdc clcd display IP