You are here:
Display Controller - LCD 4K Digital Cinema (DCI)
The 4K Digital Cinema LCD Display Controller (DCI)
IP Core interfaces a video image in frame buffer memory via the AMBA 3.0 / 4.0 AXI Protocol Interconnect to a Quad Full High Definition (QFHD) TFT LCD panel (3840 x 2160) as well as Full HD panels (1920 x 1080).
特色
Support for following LCD Panel resolutions:

3840 x 2160 Quad / Ultra Full High Definition (QFHD)

4096 x 2160 Digital Cinema Systems (DCI)

2048 x 1080 Digital Cinema Systems (DCI)

1920 x 1080 Full High Definition

Video / Graphics Base Screen with up to 16 Overlay Windows

Interface for 1,2, 8 Port TFT LCD Panel

Interface to LVDS, DVI, HDMI, & DisplayPort Transmitters / Receivers

RGB (4:4:4 sampled) and YCrCb (4:2:2 / 4:4:4 sampled) color spaces with conversion

Alpha Blending

ARM TrustZone Compliant

High performance AMBA AXI4 / AXI3 Interconnect
优势
The DB9000AXI-DCI IP Core contains programmable features comparable to entry-level ASSP DTV & LCD controller chips,targeting FPGA & ASIC designs.
可交付内容
Verilog RTL Source or technology-specific netlist.

Comprehensive testbench suite with expected results.

Synthesis scripts.

Installation & Implementation Guide.

Technical Reference Manual.
Block Diagram of the Display Controller - LCD 4K Digital Cinema (DCI)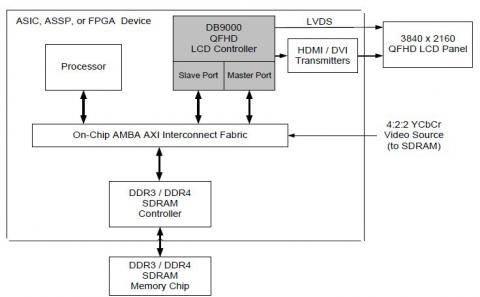 ---
查看 Display Controller - LCD 4K Digital Cinema (DCI) 详细介绍:
查看 Display Controller - LCD 4K Digital Cinema (DCI) 完整数据手册
联系 Display Controller - LCD 4K Digital Cinema (DCI) 供应商