You are here:
CryptoFirewall Transport Core
The CryptoFirewall Transport core is an independent hardware core within the SoC that provides complete key management and secure video decryption.
特色
Protects against a broad range of attacks including: Software bugs

Reverse engineering

Glitching/fault induction

Power analysis (SPA/DPA)

Control word sharing

Protocol attacks

Probing

Cryptanalysis

Focused ion beam analysis

Imaging/microscopy

Emulation

Cost-effective security in the SoC - no external interface to attack

Provides the strongest hardware protection

Complements both software and smart card CA and DRM systems

Supports all major content distribution platforms - Satellite, cable, IPTV, OTT, physical media

Meets studio security requirements, facilitating licensing of premium content

Integrates easily; reference implementations and services available as needed
优势
Strong, cost-effective security for pay TV and digital entertainment

Includes complete key management with dedicated high-security root key storage on the STB chip

Meets operator and studio security requirements

Supports all main distribution formats – satellite, cable, IPTV, and OTT

Integrates with leading CAS and DRM systems
可交付内容
Gate-level netlist targeted to vendor-specified cell library

Full technical documentation: Interface specifications

Integration guides

Validation guides

Manufacturing test and personalization specs

Test and Verification: Verification models

Emulation boards

Functional verification tests

System and validation tests

Under the CryptoFirewall™ program, the Cryptography Research division of Rambus can manage all aspects of the engineering process, including complete circuit design and integration with existing conditional access and hardware vendors.

The CryptoFirewall security core utilizes standard chip manufacturing processes. Our engineering team has worked closely with leading chip manufacturers to integrate the CryptoFirewall security core into transport chips used in set-top boxes, removable smart cards used by leading conditional access providers, and stand-alone ASICs.

Pay television operators typically coordinate with their conditional access vendor and Cryptography Research to determine whether a standard or custom CryptoFirewall security core is most appropriate for their system.
Block Diagram of the CryptoFirewall Transport Core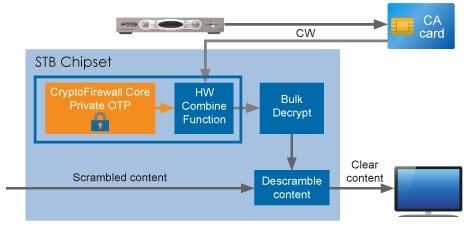 ---
查看 CryptoFirewall Transport Core 详细介绍:
查看 CryptoFirewall Transport Core 完整数据手册
联系 CryptoFirewall Transport Core 供应商