You are here:
Cortus 开发平台
Cortus 开发平台是评估和原型化全系列Cortus 32位处理器和多核系统的理想工具。

它采用Xilinx Spartan -6 X75的FPGA芯片,足以对基于Cortus处理器的大型单核和多核系统进行原型设计。

内建1 MB的高速同步静态RAM可供应用程序来使用,且能为运行频率高达100 MHz的系统提供单周期的访问。

经由FTDI FT2232H所驱动的USB接口,可用来进行JTAG的连接(Windows和Linux的驱动程序均有支持),且能与Cortus的开发工具完全兼容。其中第二个通道(通过相同的USB接口)则可为系统提供UART连接,适用于终端机(Terminal)的应用程序。
另外还有一个10/100 Mbit/s以太网收发器的PHY直接连到FPGA。这颗带有媒体独立接口(MII)的德州仪器DP83848以太网收发器能与Cortus的以太网MAC完全兼容。而Cortus也提供完整的驱动程序,可以使TCP / IP网络轻松地集成到您的应用之中。

特色
Spartan-6 X75

1 Mbyte synchronous SRAM

32 Mbit SPI flash

10/100 Mbits/s Ethernet PHY

JTAG & serial interfaces

Arduino Due I/O footprint

50MHz Clock Oscillator

Cortus toolchain & IDE
优势
The platform provides more than enough capacity to prototype single- or multi-core systems based on Cortus APS processor cores.

The FPGA board is extendible using a wide choice of 'shields' (daughter boards) that work with the Arduino Due physical interface.

The Ethernet PHY is fully compatible with the Cortus APS Ethernet MAC.
可交付内容
Cortus FPGA development board

Cortus toolchain and IDE
应用
Evaluating and prototyping systems based on Cortus APS processor cores
Block Diagram of the Cortus 开发平台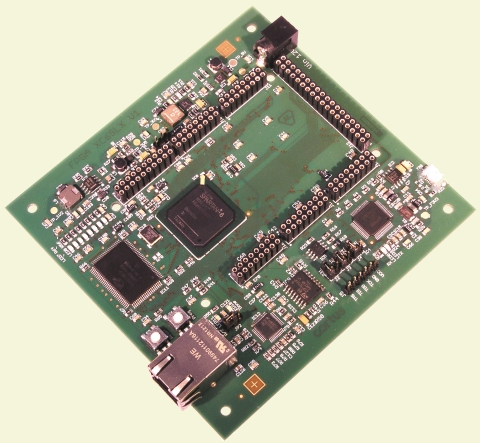 ---
查看 Cortus 开发平台 详细介绍:
查看 Cortus 开发平台 完整数据手册
联系 Cortus 开发平台 供应商