You are here:
Core Voltage Regulator
The OT1104 is a CMOS 75mA on-chip core voltage regulator designed for use when a pin for an external decoupling capacitor is not available.
A source follower output stage provides a low impedance at the output at high frequencies, minimizing on chip decoupling requirements for core logic.
特色
Input voltage range 3.0V – 3.3V.

Output voltage 1.2V or 1.8V ±4%.

Output short circuit protection.

Bundled with Obsidian 1.2V bandgap reference.

Power down/enable input.

Fast response to current steps.

2% DC line and load regulation.

PSRR 45dB @ 1MHz.

-40°C to 120°C temperature operation.

Base cell area 0.02mm2 in 0.18µ CMOS.
Block Diagram of the Core Voltage Regulator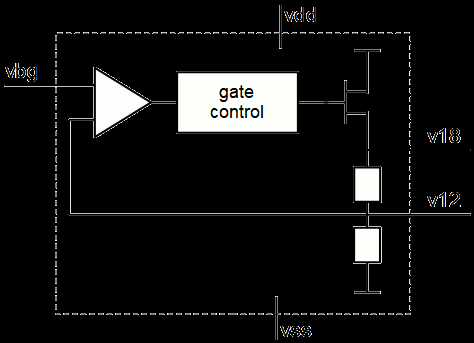 ---
查看 Core Voltage Regulator 详细介绍:
查看 Core Voltage Regulator 完整数据手册
联系 Core Voltage Regulator 供应商