You are here:
Configurable Reed Solomon Decoder
Highly configurable Reed Solomon Decoder compliant with the requirements of nearly all modern standards using Reed-Solomon error correction.
特色
Fully parameterized Reed Solomon Decoder.

Adaptive code rate can be varied on the fly.

Erasures decoding support.

Shortened codes support.

Parameterized bits per symbol, codeword length and parity bytes.

Parameterized generator and primitive polynomial.

Burst or streaming decoding support.

Various architectures for different gate count/speed combinations.

Fully synchronous design using a single clock.
可交付内容
Synthesizable VHDL or Verilog code.

C++ model for system simulation.

Comprehensive test bench.

Detailed user's guide.
Block Diagram of the Configurable Reed Solomon Decoder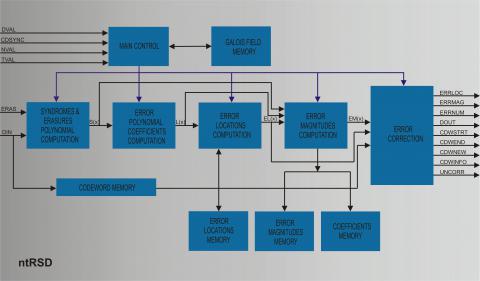 ---
查看 Configurable Reed Solomon Decoder 详细介绍:
查看 Configurable Reed Solomon Decoder 完整数据手册
联系 Configurable Reed Solomon Decoder 供应商