You are here:
PCI Express 3.0, 2.0, 1.1 Controller IP Core - Configurable
The PCI Express 3.0, 2.0, 1.1 Controller IP Core is a PCI Express endpoint, root port, and switch IP compliant to the PCI Express rev.3.0 specification

Complies with the PCI Express® Base 3.0 Draft Specification, rev.3.0
Supports Endpoint, Root-Port, Dual-Role, Switch configurations
Supports x16, x8, x4, x2, x1 at Gen3, Gen2, Gen1 speeds
Implements one Virtual Channel
Maximum payload size of up to 4KB.
特色
PCI Express层

符合PCI Express 3.1 / 3.0和PIPE(16位和32位)规范

符合PCI-SIGSingle-Root I / O Virtualization (SR-IOV)规范

支持端点,根端口,双模,交换机端口配置

支持x16,x8,x4,x2,x1,8 GT / s,5 GT / s,2.5 GT / s速度

支持AER,ECRC,ECC,MSI,MSI-X,多功能,crosslink 和其他可选功能

其他可选功能包括OBFF,TPH,ARI,LTR,IDO,L1 PM substates等。

用户界面层

256-bit 低延迟发送/接收用户界面

用户可选的交易/应用层时钟频率

用于PCIe配置访问,内部状态监视,调试等的边带 信令

支援可bypass交易层
优势
动态可调应用层频率低至8Mhz,可节省更多功率

可选的MSI / MSI-X寄存器重新映射到存储器,以便 在实现SR-IOV时减少门数

在相同的RTL代码情况下,可配置pipelining可在英特尔和赛灵思FPGA上实现全速运行,能够完全支持高达Gen3 x16 的 FPGA生产设计

超低发送和接收延迟(不包括PHY)

接收端(Rx Stream)和发送端(合并的重放/发送缓冲区)上的智能缓冲管理可降低内存占用

可选的bypass交易层支持客户特定的交易层和应用程序层

可选的QuickBoot模式允许最多4倍的link training,将系统级仿真时间缩短20%
可交付内容
IP文件​

Verilog RTL源代码

功能仿真库

配置助手GUI

文档

PCI Express® Bus Functional Model

软件

PCIExpress®Windowsx64和Linux x64设备驱动程序

PCIe C API

参考设计

可合成的Verilog RTL源代码

模拟环境和测试脚本

可合成项目和DC constraint文件(ASIC)

FPGA硬件平台的可合成项目和constraint文件
应用
Empowered virtualization with SR-IOV

Enhanced support of SR-IOV (single root I/O virtualization) within their XpressRICH3 PCI Express Gen3 IP solution, enabling customers to deploy virtualized applications more quickly and efficiently directly from within the PCI Express interface. The PLDA soft IP solution with SR-IOV capability is available for ASIC and FPGA and has been extensively tested on PLDA leading edge FPGA boards. The solution provides up to Gen3 x16 support, making PLDA the PCIe Gen3 IP of choice for leading ASIC and FPGA designs. - See more at: https://www.plda.com/plda-announces-enhanced-sr-iov-support-their-xpressrich3-pci-express-gen3-ip-solution-providing-512

Storage Features:

Creating an intrinsic end-to-end data protection capability that is transparent to the end users and a deliver a minimum impact on throughput and latency

Providing a lower total cost of ownership and smaller carbon footprint

Reducing production costs and time to market through interface standardization
Block Diagram of the PCIe 3.1 / 3.0根端口,端点,双模,具有Native用户界面 的交换机端口Controller IP核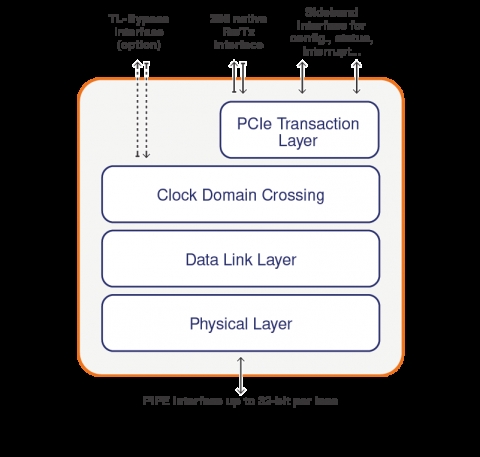 Video Demo of the PCIe 3.1 / 3.0根端口,端点,双模,具有Native用户界面 的交换机端口Controller IP核
In this video, we talk about the PLDA XpressRICH IP wizard which has been designed to enable PCIe designers to easily configure their PCIe controller as required for their application.
---
查看 PCIe 3.1 / 3.0根端口,端点,双模,具有Native用户界面 的交换机端口Controller IP核 详细介绍:
查看 PCIe 3.1 / 3.0根端口,端点,双模,具有Native用户界面 的交换机端口Controller IP核 完整数据手册
联系 PCIe 3.1 / 3.0根端口,端点,双模,具有Native用户界面 的交换机端口Controller IP核 供应商