You are here:
Clock and Data Recovery of HDB3/B3ZS coded signals
An all-digital solution suitable for clock/data recovery of HDB3/B3ZS coded signals.
特色
Performs receive clock and data recovery on HDB3/B3ZS coded data.

Programmable jitter attenuator.

Loss of signal detection.

Frequency aided acquisition using external reference clock.

Fast acquisition time.

Narrow bandwidth digital phase locked Loop.

NCO used for an all-digital implementation.
可交付内容
Synthesizable VHDL or Verilog source code.

VHDL or Verilog test bench with example configuration files.

Synthesis scripts.

Users manual.

Free 3 months technical support.
Block Diagram of the Clock and Data Recovery of HDB3/B3ZS coded signals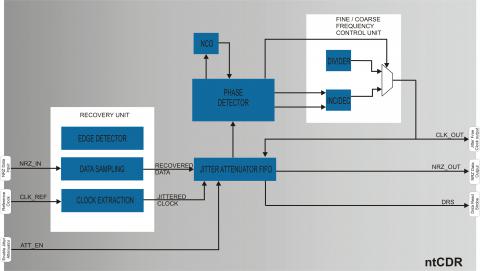 ---
查看 Clock and Data Recovery of HDB3/B3ZS coded signals 详细介绍:
查看 Clock and Data Recovery of HDB3/B3ZS coded signals 完整数据手册
联系 Clock and Data Recovery of HDB3/B3ZS coded signals 供应商