You are here:
BitBLT Graphics Hardware Accelerator (AHB Bus)
The Digital Blocks DB9100AHB BitBLT Graphics Hardware Accelerator Verilog IP Core renders a graphics frame by generating new bitmaps from commands to combining existing bitmaps on and off-screen using one of 256 Raster Operations. A Raster Operation (ROP) is a bitwise Boolean operation (such as AND, OR, XOR, NOT).

The DB9100AHB also contains a Monochrome Bitmap Color Expansion feature, typically used for font expansion of compressed character bitmaps. A 1-bit depth bitmap is expanded to one of two colors, a foreground or background color, with the foreground color representing the text, and the background color the non-text background.

The DB9100AHB also contains a programmable Alpha Blend unit, blending two bitmaps into one.

The DB9100AHB interfaces to a microprocessor and frame buffer memory via the AMBA AHB Interconnect, providing high performance memory throughput. The DB9100AHB contains a DMA Command Linked-List Processing Unit, for independently reading and processing graphics commands from the host processor.

---
查看 BitBLT Graphics Hardware Accelerator (AHB Bus) 详细介绍:
查看 BitBLT Graphics Hardware Accelerator (AHB Bus) 完整数据手册
联系 BitBLT Graphics Hardware Accelerator (AHB Bus) 供应商
Block Diagram of the BitBLT Graphics Hardware Accelerator (AHB Bus)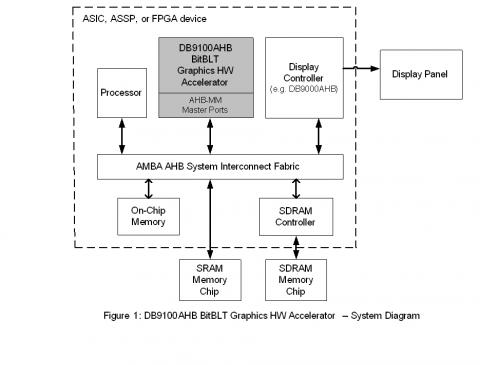 2D graphics bitblt lcd controller gdi gdi+ Directx OpenGL Khronous rop lcd display controller IP