You are here:
Aurora-like 64b/66b @14Gbps for ALTERA Devices
The 14Gbps Aurora-like IP Core is based on ALTERA FPGA and enables interoperability between XILINX and ALTERA FPGA.
特色
Full-­Duplex operation.

Simplex operation.

Up to 14.1Gbps bit rate per lane (depends on FPGA devices).

Up to 16 transceiver lanes.

Framing interface.

Native flow control in immediate and completion mode.

User flow control.

64b/66b encoding (reduce protocol overhead comparing to 8b/10b)

Clock compensation sequence generation.

Per lane polarity inversion.

Lane skew compensation.

AXI streaming interfaces.
可交付内容
REFLEX CES delivers a cost-­‐effective solution for each customer project based-­‐on an adapted license fee with the following deliveries:

VHDL source code or encrypted licenses

User guide

Reference Designs for ALTERA and XILINX development boards.
Block Diagram of the Aurora-like 64b/66b @14Gbps for ALTERA Devices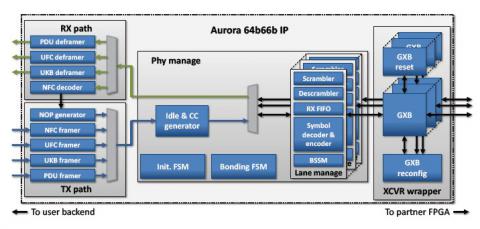 ---
查看 Aurora-like 64b/66b @14Gbps for ALTERA Devices 详细介绍:
查看 Aurora-like 64b/66b @14Gbps for ALTERA Devices 完整数据手册
联系 Aurora-like 64b/66b @14Gbps for ALTERA Devices 供应商