You are here:
ARIA Crypto Engine
The ARIA crypto engine includes a generic implementation of the ARIA algorithm which is the block cipher standard of South Korea.

It is compliant with the RFC 6209 specification and can support several cipher modes including authenticated encryption. It is portable to ASIC and any FPGA's. This algorithm has been adopted in PKCS #11 in 2007 and is used in Secure Real-time Transport
Protocol (SRTP).
特色
ASIC and FPGA

Supports a wide selection of programmable ciphering modes:

Non-chaining modes: ECB, CTR

Chaining modes: CBC, CFB, OFB

Authentication: CMAC

Authentication & Confidentiality: GCM, GMAC, CCM, CCM*

Context switching

Supports encryption & decryption

Supports 128-bit, 192-bit & 256-bit key sizes

Data interface: AMBA (AHB/AXI:AXI-4) with optional DMA

Control interface: APB or AXI4-lite
优势
The BA424 IP core is easily portable to ASIC and FPGA. It supports a wide range of applications on various technologies. The unique

architecture enables a high level of flexibility. The IP Core is available in the crypto coprocessor (BA450) and the Root of Trust/HSM

(BA470) from Silex Insight.
可交付内容
Netlist or RTL

Scripts for synthesis & STA

Self-checking RTL test-bench on referenced vectors

Documentation
应用
Wireless communication

Payment

South Korean market
Block Diagram of the ARIA Crypto Engine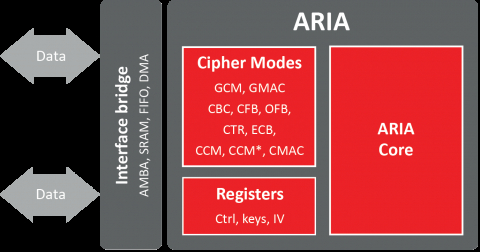 ---
查看 ARIA Crypto Engine 详细介绍:
查看 ARIA Crypto Engine 完整数据手册
联系 ARIA Crypto Engine 供应商