You are here:
All Digital PLL
The All Digital is an all digital implementation of a phase locked loop. PLLs are widely used in telecom applications for clock recovery, clock generation and clock supervision.
Different phase dtectors (FIFO fill level, phase erros, and so on) may be used and can be adapted to perfectely fit the application.
特色
All Digital Implementation

Linear Frequency Range from 0 to n MHz

Infinite Frequency Hold Time

Programmable Center Frequency

Programmable Filter Characteristics (Cut-Off Frequency, Loop Gain)

Adaptable Phase Detector

Structured, Synchronous HDL RTL Design

Gate Count: approximately 5000
优势
The all digital solutions needs no external components, is fully programmable and can be started already locked.

Other advantages are found where long time constants are required or where the loop filter have to be programmed depending on the current operation conditions.
可交付内容
VHDL or Verilog RTL Source Code

Functional Testbench

Synthesys Script

Data Sheet

User Guide

Hotline Support by means of phone, fax and e-mail
Block Diagram of the All Digital Phase Locked Loop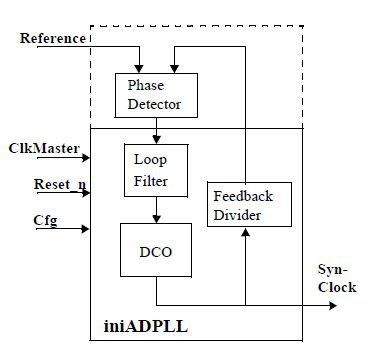 ---
查看 All Digital Phase Locked Loop 详细介绍:
查看 All Digital Phase Locked Loop 完整数据手册
联系 All Digital Phase Locked Loop 供应商