You are here:
95 dB of SNR, 24-bit audio CODEC with headphone output and line-out
SoC integrators targeting portable audio applications such as Smart Phones, PMP, PDA should demonstrate optimal recording performances as well as the best sound quality, while starring the longest playback capability.
shCOD95.BT01-Helium, the ultra low power audio CODEC, is thus the best ally of SoC integrators targeting such high volume markets. Its small area ensures a cost-effective SoC integration both in mature and very advanced pure logic processes.
This complete configuration of audio converter proves it feasible to combine Class-AB amplifiers, known for offering the lowest Bill-of-Material, with ultra-low dynamic power.
特色
Robust architecture enabling to maintain the audio performance after integration thanks to the patented PLL-less solution

Pop-Up Noise Reduction system

High audio performances measurable with test equipment not specific to audio measurement

Optimal sound recording performances thanks to the Automatic Gain Control
Block Diagram of the 95 dB of SNR, 24-bit audio CODEC with headphone output and line-out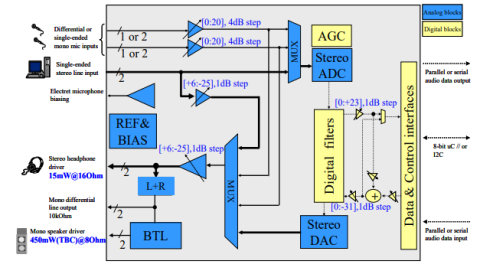 ---
查看 95 dB of SNR, 24-bit audio CODEC with headphone output and line-out 详细介绍:
查看 95 dB of SNR, 24-bit audio CODEC with headphone output and line-out 完整数据手册
联系 95 dB of SNR, 24-bit audio CODEC with headphone output and line-out 供应商