You are here:
600MHz General Purpose Clock Multiplier PLL for 180n CMOS
The OT3122 is a flexible clock multiplier PLL function with a wide range of input and output frequencies and is designed for 180n CMOS processes.

Single use pricing starts at $12K.
特色
Wide range N, M, P integer dividers.

40MHz – 600MHz output frequency range.

Compare frequency range 8MHz – 75MHz.

15pS RMS cycle to cycle jitter at 600MHz.

Startup time 25uS.

Robust lock-detect function.

Bypass function.

-40°C to 140°C temperature operation.

Available divider selection program.

Small cell area: 0.03mm2 in 0.18µ CMOS.

3mW typical power dissipation.

1.8V digital and analog supplies.

0.18µ CMOS process compatibility.
可交付内容
Verilog model.

CDL netlist for LVS.

Design review documentation.

GDS format layout.

Timing files.

Integration notes.

Production test notes.
应用
Crystal frequency to device internal clock multiplication.

Communication cores.

Bus Interface cores.
Block Diagram of the 600MHz General Purpose Clock Multiplier PLL for 180n CMOS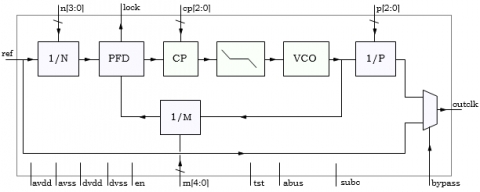 ---
查看 600MHz General Purpose Clock Multiplier PLL for 180n CMOS 详细介绍:
查看 600MHz General Purpose Clock Multiplier PLL for 180n CMOS 完整数据手册
联系 600MHz General Purpose Clock Multiplier PLL for 180n CMOS 供应商