You are here:
40nm 1.1V 16MHz-2GHz Fractional-N Clock-PLL
The TRV301TSM40LP IP is a 1.1V low-power low-silicon-area 16MHz-to-2GHz Fractional-N Clock PLL implemented in TSMC Low-Power 40nm CMOS process technology. Its low loop filter bandwidth and low-frequency reference clock makes it especially suitable for use in clock synthesis for DAC, ADC and digital subsystems within wireless communication and broadcast integrated circuit chipsets (LTE, WiFi, WiMAX, DAB, DAB+, FM, HDFM, DRM, etc).
特色
16MHz-to-2GHz PLL Output Coverage

Scalable Power Consumption

Three independent programmable PLL outputs

Internal Calibration Engine and Convergence Algorithm

Fully-integrated 165kHz loop filter

13MHz to 52MHz Crystal Oscillator Reference Support
优势
Low-power and low-area fully-featured 16MHz-to-2GHz Clock PLL with programmable outputs and integrated calibration engine and tuning voltage convergence logic.
可交付内容
Behavioural Models

Timing Models

GDSII Layout Database

Netlist for LVS verification

Usage and Integration Guidelines

Databook
应用
PLL is suitable for embedding in ASIC and SoC subsystems for:

LTE, WiFi, WiMAX, DAB, DAB+, FM, HDFM, DRM and many more
Block Diagram of the 40nm 1.1V 16MHz-2GHz Fractional-N Clock-PLL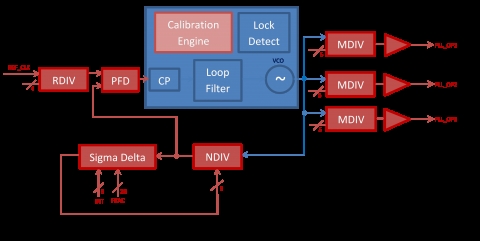 ---
查看 40nm 1.1V 16MHz-2GHz Fractional-N Clock-PLL 详细介绍:
查看 40nm 1.1V 16MHz-2GHz Fractional-N Clock-PLL 完整数据手册
联系 40nm 1.1V 16MHz-2GHz Fractional-N Clock-PLL 供应商