You are here:
32-bit RISC Processor To Deliver High Performance In Low-Cost Microcontroller Applications
The Cortex-M3 processor is specifically developed to enable partners to develop high-performance, low-cost platforms for a broad range of devices, including microcontrollers, automotive body systems, industrial control systems, and wireless networking and sensors.
特色
Powerful debug and non-intrusive real-time trace - Comprehensive debug and trace features dramatically improve developer productivity. It is extremely efficient to develop embedded software with proper debug.

Memory Protection Unit (MPU) - Software reliability improves when each module is allowed access only to specific areas of memory required for it to operate. This protection prevents unexpected access that may overwrite critical data.

Integrated nested vectored interrupt controller (NVIC) - There is no need for a standalone external interrupt controller. Interrupt handling is taken care of by the NVIC removing the complexity of managing interrupts manually via the processor.

Thumb-2 code density - On average, the mix between 16bit and 32bit instructions yields a better code density when compared to 8bit and 16bit architectures. This has significant advantages in terms of reduced memory requirements and maximizing the usage of precious on-chip Flash memory.
优势
Design the most optimal System-On-Chip with a processor that has the perfect balance between area, performance and power with comprehensive system interfaces and integrated debug and trace components.

Develop solutions for a large variety of markets with a full-featured Armv7-M instruction set that has been proven across a broad set of embedded applications.

Capture a worldwide experienced developer base to accelerate adoption of new Cortex-M3 powered products and leverage the available extensive knowledge base to reduce support costs.

Achieve exceptional 32-bit performance with low dynamic power, delivering leading system energy efficiency due to integrated software controlled sleep modes, extensive clock gating and optional state retention.
应用
Wearables

IoT

Motor Control

Appliances

Connectivity

Smart home/building/enterprise/planet
Block Diagram of the 32-bit RISC Processor To Deliver High Performance In Low-Cost Microcontroller Applications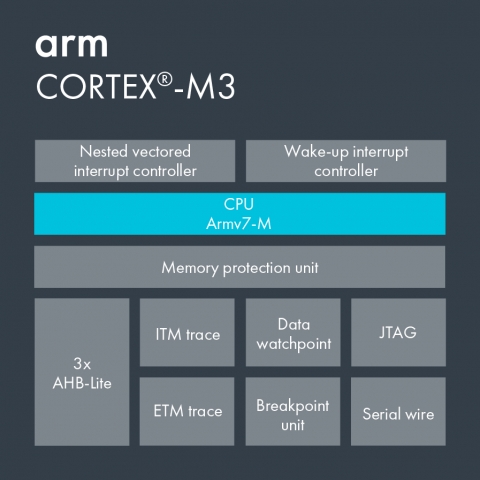 ---
查看 32-bit RISC Processor To Deliver High Performance In Low-Cost Microcontroller Applications 详细介绍:
查看 32-bit RISC Processor To Deliver High Performance In Low-Cost Microcontroller Applications 完整数据手册
联系 32-bit RISC Processor To Deliver High Performance In Low-Cost Microcontroller Applications 供应商