You are here:
16nA Resistive Current Bias - Low Voltage (1.0V), Low Power (360nW @ 1.2V) Silterra 0.18 μm
This macro-cell is a low power general purpose current bias generator core designed for SilTerra 0.18µm CL180G CMOS technology.
The circuit generates 7 × NMOS 16nA current branches and 1 × NMOS 8nA branch. The current bias is temperature compensated using the PTAT thermal coefficient (TC) of an integrated resistor. The core is easily retargeted to any other CMOS technology due to high portability architecture.
特色
Low power current bias

Low TC

Ibias=15.5nA ±10% (without trimming)

Current consumption around 300nA in active mode

Flexible voltage operation: 1.0V–2.0V

Enable control

Indicative area: 0.0072mm2
可交付内容
Datasheet/Integration Guide

HDL Model

Flat GDSII database/LVS netlist

Customer Support
应用
Passive/active RFID tag ICs

Battery powered equipment

Energy Harvesting ICs

Hearing Aids
Block Diagram of the 16nA Resistive Current Bias - Low Voltage (1.0V), Low Power (360nW @ 1.2V) Silterra 0.18 μm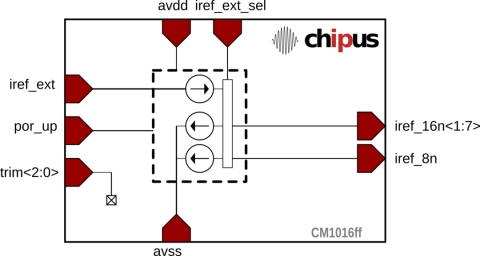 ---
查看 16nA Resistive Current Bias - Low Voltage (1.0V), Low Power (360nW @ 1.2V) Silterra 0.18 μm 详细介绍:
查看 16nA Resistive Current Bias - Low Voltage (1.0V), Low Power (360nW @ 1.2V) Silterra 0.18 μm 完整数据手册
联系 16nA Resistive Current Bias - Low Voltage (1.0V), Low Power (360nW @ 1.2V) Silterra 0.18 μm 供应商