You are here:
16 state DVB-RCS2 Turbo Encoder
This is a 16 state DVB-RCS2 compatible parallel concatenated turbo encoder.
特色
16 state DVB-RCS2 compatible

Rate 1/3, 2/5, 1/2, 2/3, 3/4, 4/5, 5/6, 6/7, 7/8 with reverse output option

Automatic puncturing

48 to 2048 or 5120 bit data length

Up to 344 Mbit/s encoding speed

2-bit or 6-bit parallel encoded data out

DVB-RCS2 or optional interleaver parameters

365 6-input LUTs

Available as VHDL core for Xilinx FPGAs under SignOnce IP License. Intel (Altera), Lattice and Microsemi (Actel) FPGA or ASIC cores available on request.
可交付内容
All Licenses

VHDL Core

Test vector generation software

VHDL ASIC License
Block Diagram of the 16 state DVB-RCS2 Turbo Encoder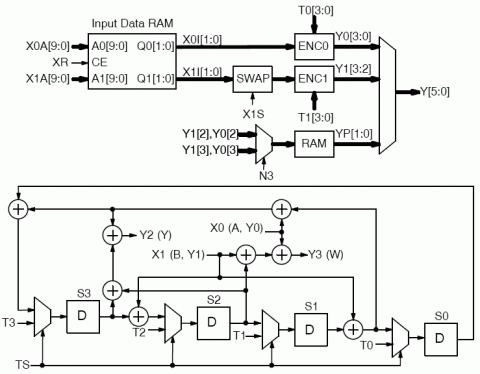 ---
查看 16 state DVB-RCS2 Turbo Encoder 详细介绍:
查看 16 state DVB-RCS2 Turbo Encoder 完整数据手册
联系 16 state DVB-RCS2 Turbo Encoder 供应商