You are here:
12-bit 40nm 1.1V 64MHz-to-340MHz continuous-time Delta-Sigma ADC
The silicon-validated 12-bit Delta-Sigma ADC IP is a 1.1V low-power 12-bit 64MHz-to-340MHz continuous-time Delta-Sigma ADC with OSR of 32 and implemented in Global Foundry Low-Power 40nm CMOS process technology. Its scalable 1MHz to 5.3125MHz signal bandwidth makes it especially suitable for use in wireless and broadcast integrated circuit subsystems (LTE, WiMAX, DAB, DAB+, FM, HDFM, DRM, etc).
特色
Integrated Dual-Channel Continuous-time Delta-Sigma Modulator (I + Q)

Integrated Dual decimate-by-8 Cascaded-Integrator-Comb Decimation Filter

Integrated Common-Mode Reference Generator

Integrated Feedback DAC Positive and Negative Reference Generator

Integrated Delta-Sigma Modulator Loop Filter RC Calibration Engine

Scalable Power Consumption

Two's Complement data output

65dB SNR

70dB SFDR
优势
Low-power fully-featured 12-bit ADC with completely integrated reference generators and calibration engines.
可交付内容
Behavioural Models

Timing Models

GDSII Layout Database

Netlist for LVS verification

Usage and Integration Guidelines

Databook
应用
ADC is suitable for embedding in ASIC and SoC subsystems for:

LTE, WiMAX, DAB, DAB+, FM, HDFM, DRM and many more
Block Diagram of the 12-bit 40nm 1.1V 64MHz-to-340MHz continuous-time Delta-Sigma ADC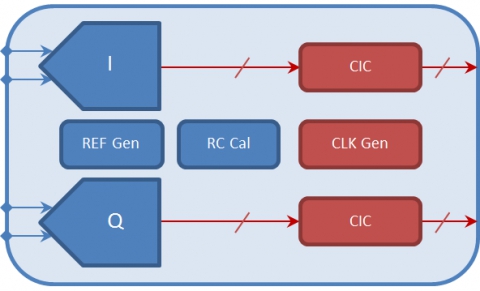 ---
查看 12-bit 40nm 1.1V 64MHz-to-340MHz continuous-time Delta-Sigma ADC 详细介绍:
查看 12-bit 40nm 1.1V 64MHz-to-340MHz continuous-time Delta-Sigma ADC 完整数据手册
联系 12-bit 40nm 1.1V 64MHz-to-340MHz continuous-time Delta-Sigma ADC 供应商