You are here:
10mA PFM DCDC Boost Converter for Single Alcaline or NiMh battery
CT21100 is high efficiency DCDC boost converter delivering 2.7V at 10mA from an input as low as 0.9V. Designed to work with a single alkaline/NiMh coin cell, CT21100 is the perfect solution for low power handheld portable devices. To improve efficiency with light load conditions, an asynchronous topology with Pulse Frequency Modulation (PFM) technique is implemented. The component is optimized for ease of use and integration in complex SoCs
特色
Input Voltage Range: 0.9V to 1.8V

(single alkaline or Ni-MH battery)

10 mA maximum output

18 uA quiescent current with no load.

Fixed 2.7V output voltage.

Modulation (PFM) technique.
应用
Low Power Portable and Wearable Devices

Embedded micro sensors
Block Diagram of the 10mA PFM DCDC Boost Converter for Single Alcaline or NiMh battery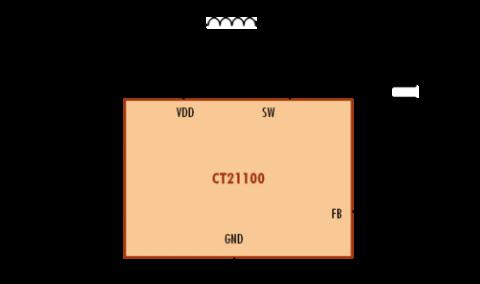 ---
查看 10mA PFM DCDC Boost Converter for Single Alcaline or NiMh battery 详细介绍:
查看 10mA PFM DCDC Boost Converter for Single Alcaline or NiMh battery 完整数据手册
联系 10mA PFM DCDC Boost Converter for Single Alcaline or NiMh battery 供应商