You are here:
10 & 25Gbit/s Ethernet UDP/IP Hardware Stack for FPGAs
The Chevin Technology UDP/IP is an ultra-low latency IP core that offers fast transport layer Ethernet data transfer. Chevin Technology's UDP/IP simplifies the integration of the UDP protocol into any Xilinx FPGA at rates of 10 & 25 Gbit/s.
Ultra-low latency is achieved by offloading frame assembly and hardware accelerated checksum calculation for UDP datagrams.
This allows user data to take the shortest and lowest latency path to and from wire.

特色
Low Latency TX 38.4ns RX 38.4ns

Small Logic Footprint 3k LUTs

Small Memory Footprint 4 RAMB36E

Programmable UDP Port numbers

Integrated Streaming FIFO – 4 Block RAMs

Integrated IP Checksum Generator/Check

Flow Control between MAC/User logic

Detailed traffic analysis statistics collection

MAC interface, 64bit @ 156.25MHz

Application interface, 64bit @ 156.25MHz

IP blocks sold separately for flexible solutions

Jumbo Frames; up to 9KB
优势
Chevin Technology's 10G & 25G UDP Ethernet IP is FPGA Synthesisable EndPoint with Checksum Offload for ultra low-latency connectivity.

The 10G & 25G UDP IP cores simplify FPGA integration of an ultra fast UDP/IP layer in any FPGA by handling the complete Ethernet frame assembly.

A simple AXI4 streaming interface is all that is required to start sending and receiving UDP datagrams, and only the "user data" payload is exchanged between the application and the UDP block. For a single port application the port number can be set to a constant, hard coded or software configurable. A multi- port application is supported by a single UDP IP core by using the udp_port sideband embedded in the streaming interface.
可交付内容
• Encrypted compiled netlist

• Datasheet & User Guide to assist integration

• Reference Designs for AlphaData boards

ADM-PCIE-KU3, ADM-PCIE-8V3, ADM-PCIE-9V3

• Simulation Test bench

• Build scripts for Vivado

• Support for integration into FPGA
应用
Audio/Video Streaming

Trade execution & monitoring

Data Storage & Capture systems

HPC / Big Data systems

Signal processing systems

Data Mining
Block Diagram of the 10 & 25Gbit/s Ethernet UDP/IP Hardware Stack for FPGAs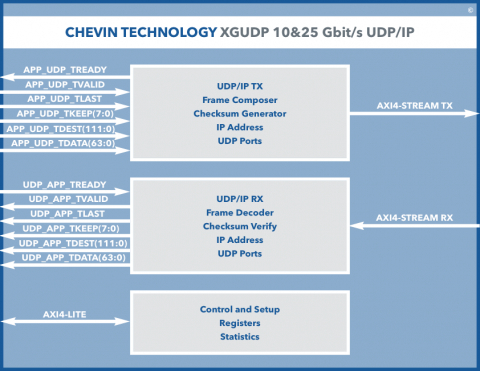 ---
查看 10 & 25Gbit/s Ethernet UDP/IP Hardware Stack for FPGAs 详细介绍:
查看 10 & 25Gbit/s Ethernet UDP/IP Hardware Stack for FPGAs 完整数据手册
联系 10 & 25Gbit/s Ethernet UDP/IP Hardware Stack for FPGAs 供应商